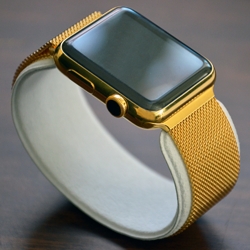 Groveland, FL, June 25, 2015 --(
PR.com
)-- DrGoldPlate.com, a renowned Florida-based gold plating service recently announced a new gold plating service exclusively for the Stainless steel Apple watch Edition. Those looking for an inexpensive way to make their Apple watch look more elegant and sophisticated can look forward to blemish-free 24 Karat gold plating from one of the most experienced laboratory technicians in the industry.
According to the company's spokesperson, individuals can have their favorite Apple watch gold plated for as little as $250, while the original costs as much as $10,000 - $17,000. "We understand that watch lovers are proud of their possession and would love to have their favorite time piece looking rich and elegant in more ways than one. That's why we have decided to offer high quality gold plating at an affordable price. The response so far has been tremendous and we look forward to serving many more clients. At DrGoldPlate, we have utilize the best of technology and the decades of experience of laboratory technicians to produce the best results."
Dr. Gold Plate Inc. is run by a team of experienced technicians who are well known in the industry. Customers can have their stainless steel Apple watch plated with 24 Karat yellow gold or 24 Karat rose gold for only $295. The company also offers to gold plate the classic buckle Apple watch band for only $99.95. The watch is undoubtedly a hit since its launch and is manufactured from cold forged stainless steel. While it is formulated for strength and beauty, Dr. Gold Plate goes one step further in making the watch look even better.
The watch that is designed to be worn all day or night during any activity gets a touch of style when gold plated says the spokesperson of Dr. Gold Plate, who has many satisfied clients to back that claim. The company is so confident of their plating service that they are currently offering a 2 year warranty on the quality of workmanship. Even though the chances are bleak, any customer than finds flaking, peeling or bubbles on their watch in the first two years of plating, will be entitled to have it repaired free of cost.
Customers can place orders online at
http://www.drgoldplate.com/
and receive a prepaid Fed Ex shipping label that can be used to ship the Apple watch to their gold plating laboratory. The 24 Karat gold plating process is completed in around 3 business days and shipped back to the customer via Fed Ex.
About Dr. Gold Plate Inc: The Florida based company is one of the leading
Apple Watch gold plating services
available for a wide range of products. This includes the popular stainless steel Apple watch. Their plating processes are managed by laboratory technicians with over a decade of experience in the industry and vast knowledge of the gold plating process and industry.