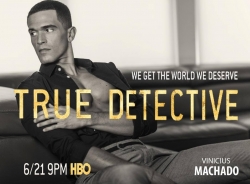 Los Angeles, CA, July 03, 2015 --(
PR.com
)-- Vinicius Machado, born in Niteroi, Rio De Janeiro, Brasil, grew up in Orlando, Florida. An early love of performing birthed from dancing Capoeira (Brazilian Martial Arts) led to major roles in local theater productions, commercials, and feature films. His passion and talent eventually brought him to Los Angeles, where he immediately found success on Nickelodeon's hit series, "Neds' Declassified School Survival Guide." Other roles and projects quickly followed.
He has had roles in many prime time television shows, including: Cold Case, CSI Miami, NCIS, Flash Forward, The Shield, General Hospital, to name a few.
On the big screen, Vinicius hilariously played a valet attendant in the box office blockbuster comedy Get Smart, starring Steve Carell.
Vinicius played the controversial role of Nomar Arcielo on Curtis "50 Cent" Jackson's new television series for Starz, POWER, in which the second season premiered on June 7th. Vinicius also produces and writes - many of his self produced, self written projects are already completed and available for viewing online, while others are in development, and some are being filmed now.
Currently, Vinicius plays another complex character, Tony Chessani, on HBO's hit series True Detective in which his character will be introduced on Sunday, July 5th. When not working, Vinicius spends his time with his three kids and wife, living the life they always dreamed of together. He supports Feed The Children and Vision for the World. - IMDb Mini Biography By: Eric Lewis
Vinicius Machado's Reel:
https://www.youtube.com/watch?v=-q50TeydmYw
Follow Vinicius Machado on...
Instagram:
https://instagram.com/vmachado82/
Twitter:
https://twitter.com/vmachado82
Facebook:
https://www.facebook.com/officialviniciusmachado
Watch HBO's True Detective on Sunday, July 5th, 9PM-ET
The Organic Face & kgPR present...
Vinicius Machado hosts HBO's Trues Detective Viewing Parties
Minneapolis: July 11th - 13th
Miami: July 16th - 20th
Chicago: July 23rd - 27th
Cincinnati: July 30th - August 3rd
To book Vinicius Machado for an interview or any lifestyle event please contact:
kweisi gharreau,
kgharreau@kgpr-la.com
312.217.7246
kgPR
be seen. be heard.
1201 W. 5TH Street Ste. f-219
Los Angeles, CA 90017
Twitter: https://twitter.com/2kgpr
Instagram: http://instagram.com/2kgpr
http://www.kgpr-la.com/
About kgPR
kgPR is a boutique public relations and brand strategist firm based in Los Angeles, CA. Specializing in media relations, brand development, brand strategy, lifestyle marketing and event production, kgPR creates unique targeted campaigns with the goal of providing measurable results. In addition to its core competencies, kgPR also possesses expertise in developing brand and social media campaigns and forging strategic partnerships.