SpiceRoads Tour Guides Spice Up Their Skills
50 international guides converged on Bangkok for in-depth training session.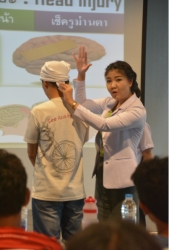 Bangkok, Thailand, July 04, 2015 --(
PR.com
)-- SpiceRoads welcomed 50 of our professionally-licensed multilingual tour leaders for a fun-filled and educational two-day
Guide Training Workshop
. The training included a certified first-aid from the Red Cross of Thailand, emergency situation role-plays, a bike maintenance course, and fun team-building exercises.
Struan Robertson, CEO of SpiceRoads, says, "We recognise the importance of keeping our guides not only right up to date on their training but also enthusiastic and committed to the SpiceRoads ethos. We bring them together when they also learn from each other, bonding as a vital part in the global SpiceRoads family. We are very proud to be leading the way in in-depth guide training in Asia. Our International Guide training workshop will continue to be run annually."
What did their Tour Guides cover on their training session?
Health and Safety
* First aid training (part of the training included a course offering internationally recognised certification in First Aid for every attendee).
* Health and safety (how to recognise and implement on tour procedures).
* Accident reporting and action workshop with several staged accidents ('what-if' scenarios).
* A roleplay workshop based on various scenarios (included tour briefings, safety briefings and emergency situations).
* Bike mechanic training course to help guides spot faults and rectify where possible on tour
SpiceRoads update
* Overview of Industry and company developments.
* Introduction of new staff to guides.
* Discussion on new tours and destinations.
* Learn new processes and internal systems.
* Q&A session with Operations Team to discuss ideas and any issues openly.
* GPS Training as a navigational tool and for collecting accurate data on routes.
Team building
* Icebreaker exercises including an introduction to the SpiceRoads ground team.
* Team building exercises with the guides sharing their varied experiences and having a fun time too!
* Award ceremony, including "best overall guide" (based on client feedback).
* And, finally, an end of session farewell drinks, speeches and dinner.
About SpiceRoads
SpiceRoads is a specialist bicycle tour operator based in Bangkok offering a range of two-wheel tours in over 25 destinations worldwide. SpiceRoads tours cater for every level of cyclist and range from day trips to complete country explorations. Participants are invited to join tours with fixed date departures scheduled throughout the year, while private or tailor-made tours can be arranged for groups or individuals on request. The highly professional operation employs experienced cycle guides to lead all tours and has a fleet of well-maintained mountain and road bikes and support vehicles.
Contact
SpiceRoads Co., Ltd
Sally Hoare
+66 (0) 2 381 7490
www.spiceroads.com

Contact