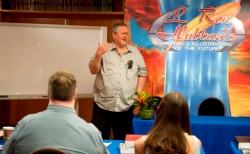 Hollywood, CA, July 17, 2015 --(
PR.com
)-- The Writers of the Future Program, has become the largest, the most well-known and the best established discovery vehicle in the field of speculative fiction. Not just because of the award, but the exclusive writing workshop given to the winners. And the annual L. Ron Hubbard Presents Writers of the Future, published by Galaxy Press, remains the top selling anthology for speculative fiction for new writers.
One out of three winners goes on to become a published author with multiple novels and short stories. To date, the 426 Writer winners have published nearly 1,000 novels and over 4,000 short stories. They have produced 30 New York Times bestsellers and their works have sold over 52 million copies.
After thirty years, a special Writing Course using the elements of the highly successful Writers of the Future Workshop is being made available to aspiring writers. The weekend long workshop is being taught by NYT bestselling author and the Writers of the Future Coordinating Judge Dave Wolverton, with special guest instructors NYT bestselling authors Orson Scott Card (Enders Game), Kevin J. Anderson (Dune prequels) & Rebecca Moesta (Young Jedi Knights series), as well as two time Pinnacle Award Winning writing teachers and award winning authors Brittany and Brianna Winner (The Winner Twins).
The Winner Twins released their first novel The Strand Prophecy at 12 years of age resulting in their winning eight awards, making them America's Youngest Multiple Award Winner Authors.
For their accomplishments, they were recognized as prodigies by the Worlds Council for Gifted and Talented Children. They opened a nonprofit Motivate 2 Learn and have spent years touring and teaching creative writing to schools, colleges, and comic conventions, addressing over 150,000 people.
The workshop takes place August 29-30 at Author Services, Inc., located at 7051 Hollywood Blvd, Hollywood, CA 90028. For more information and how to sign up for the workshop, visit http://www.galaxypress.com/wotf-writing-workshop
The Writers of the Future writing contest (www.writersofthefuture.com) was initiated by L. Ron Hubbard in 1983 to provide a means for aspiring writers to get that much-needed break. Due to the success of the Writing Contest, the companion Illustrators of the Future Contest was created in 1988.
The intensive mentoring process has proven very successful. The 368 past winners of the Writing Contest have published 838 novels and nearly 4,000 short stories. They have produced 27 New York Times bestsellers and their works have sold over 50 million copies.
The 298 past winners of the Illustrating Contest have produced over 4,500 illustrations, 356 comic books, graced 594 books and albums with their art and visually contributed to 36 TV shows and 46 major movies.
For more information on Writers of the Future, go to www.writersofthefuture.com.www.galaxypress.com