The Blasphemy Bear? - Teddy Bear Unapologetically Displays His Name, Muhammad
As a result of the imprisonment of a school teacher for blasphemy in naming a teddy bear Muhammad; a businessman in Phoenix Arizona thought those 7-year-old kids and their teacher had a great idea.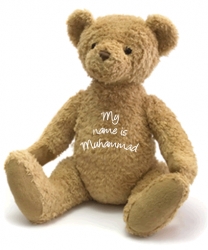 Phoenix, AZ, December 04, 2007 --(
PR.com
)-- The infamous teddy bear named Muhammad has been making worldwide headlines as a result of a school teacher, Gillian Gibbons, sentenced to 15 days in a Sudanese prison, for allowing a teddy bear to be named by her 7-year-old pupils, Muhammad. As a result, Arizona businessman and entrepreneur, Mark Bold had an idea, to unapologetically create the first teddy bear officially named Muhammad, so kids of all ages can have their own.
Muhammad, Mohammed and other variants, is the most common name in the world and is now second only to Jack as the most popular name for baby boys in Britain, and is likely to rise to No 1 by next year. So why name a teddy bear, Muhammad now? "Because we can and should" says Mark. "It's because I want to demonstrate that kids and adults of all ages should have the freedom to have a stuffed toy bear that can be given a common name, such as Muhammad, without fear." Mark adds, "Sure, there is a bit satire in all of this, but there is a much bigger truth; because of this event, the Teddy Bear named Muhammad story teaches us to stand up against intolerance, injustice and bigotry; and this little bear reminds us of this importance." Mark continues, "To be threatened of caning, imprisonment, execution, or even standing in a corner, over the name of a teddy bear, is ridiculous." Mark concludes, "There isn't much more that brings a smile to a child than a teddy bear, and if a child, teacher, or anyone wants one with the name Muhammad, they can now have one."
The bears have already been selling worldwide and prices have dropped to only $9.95 for Teddy Muhammad™ during the Holidays. "We want everyone to be able to have one, because it is more than a teddy bear, it is a bear that is making a profound statement." The cloud-soft plush bear is about 10" tall and includes a Certificate of Authenticity along with the slogan "Supporting the right to Bear names". Clothing and accessories for Teddy Muhammad™ are currently being developed.
Orders can be placed by going online to http://www.teddybearmuhammad.com/. Satisfaction is guaranteed.
###
Contact
Kelly Williams
1-800-405-6107
www.teddybearmuhammad.com

Contact