Hexter-Fair First American Title Brings Innovative Property Evaluation Technology to DFW with Zonability
Hexter-Fair First American Title mondernizes its real estate evaluation technology and fills gap in property records with Zonability.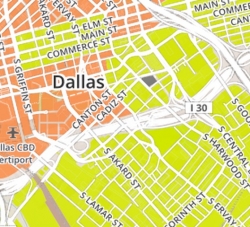 Dallas, TX, July 29, 2015 --(
PR.com
)-- Hexter-Fair First American Title, a Dallas-based commercial and residential title company, is modernizing its approach to evaluating property in the DFW real estate marketplace with a disruptive new technology called Zonability, which highlights possible development and use potential.
Zonability is an online subscription service developed by Beyond Value, Inc., an Austin based company. The software transforms municipal zoning codes and other property data into insights about hidden property potential that are easy to access, search, share, and understand. Zonability generates graphically rich reports and interactive maps that can be viewed through a browser on mobile devices or computers.
By using Zonability, Hexter-Fair First American Title is able to help their clients quickly assess a property's unrealized build out and use potential. This is useful for investors, developers, real estate agents, and brokers who focus on value-add locations or those with nearby vacant lots. They will benefit by having greater transparency into property controls that can affect property value and livability.
Zonability derives its insights from local zoning, public record data, and builds maximum potential building size and height estimates as well as lists potential allowable uses. This automated calculation is done for a specific address or parcel of land within a city.
The Zonability property database encompasses over 2 million parcels of land in 35 cities in Texas and Colorado. Zonability will announce its next expansion later this summer.
"First American Title partnered with Zonability after we understood what a valuable tool this was for our local real estate community. Most people only evaluate real estate based on the existing structure and use. That's partly because access to hidden property potential has traditionally been a slow, expensive process. Now, with Zonability, we can instantly identify potential underutilization on a specific parcel, or generate a list of underutilized properties that meet search criteria such as potential use, zoning district, lot size, and building size," said Devin Stone, COO and Sales Manager at Hexter-Fair First American Title.
"Every real estate professional in the DFW area who focuses on customer service and value should know that Hexter-Fair First American Title has Zonability, and that at long last, they can deliver a more complete story on a property and location to their clients. Investors and consumers looking at real estate should ask their real estate agent or broker about a property's 'Zonability' Property potential is part of the property's value and appeal. While the technical aspects of zoning should still be handled by architects and engineering professionals, we're working hard to make it easy for anyone to quickly assess a 'first pass' at unrealized potential," said Leigh Budlong, founder of Zonability.
About Hexter-Fair First American Title
Hexter-Fair First American Title is a locally managed title company owned by a leading global provider of title insurance and settlement services for real estate transactions. The company offers a full range of title insurance and closing services, with all decisions made by people who have personal knowledge of transactions and the people involved. Hexter-Fair First American Title's executive team and staff and state of the art technology, along with the finest abstract plant facilities, work together to provide fast, accurate and dependable service.
Managed by Division President Britt Fair and COO/Sales Manager Devin Stone, Hexter-Fair First American Title Company is headquartered in Dallas with 15 offices located in Dallas, Fort Worth, Allen, McKinney, Plano, Irvin, Denton, Arlington, Colleyville, Mansfield, and Southlake. For more about Hexter-Fair First American Title, go to
www.firstam.com/title/hexterfair
.
About Zonability
Zonability is a powerful and growing subscription-based real estate cloud-application that provides a more efficient way for real estate professionals to uncover hidden property potential for their clients. Zonability was developed by Beyond Value, Inc. in Austin, Texas, and is led by Founder and President Leigh Budlong. In 2011, Budlong was one of 17 people honored by the White House as a "Technology Champion of Change" for her innovative use of public data. For more about Zonability, go to:
http://www.zonability.com
.
Contact
Meeker Marcom
Jason Meeker
512-773-4332
www.zonability.com

Contact