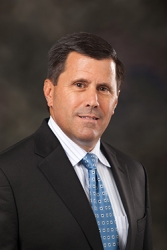 Des Plaines, IL, August 06, 2015 --(
PR.com
)-- Edward Bowersox has joined DSC Logistics as Senior Vice President, Customer Strategy.
In this role, Bowersox will have oversight of key customer relationships and work at senior levels of DSC's customers' organizations to enhance and deliver on their supply chain strategies. He will provide leadership as DSC continues to implement and customize its Strategic Partnership Process, and focus on the delivery of value to customers through cross-functional engagement and commitment to shared objectives.
Bowersox is the former Senior Director of Global Product Supply of Kimberly-Clark, where he was responsible for developing strategies for integrating North American business strategies with expansion plans in developing countries within Asia Pacific and Latin America. He recently retired from Kimberly-Clark after a career spanning 32 years in various assignments with increasing responsibility in Logistics, Operations and Global Supply Chain Management.
Originally from Michigan, Bowersox received a Bachelor of Science degree from Michigan State University with an emphasis in Packaging Engineering and Logistics. He is an established Lean change leader within both the CPG and B2B business environments, and has extensive leadership experience related to mergers and acquisitions and best practice integration.
"Strategic partnerships have the potential to create unparalleled advances in efficiency and creativity," said Ann Drake, CEO of DSC Logistics. "Ed's perspective reinforces DSC's ability to bring our supply chain talent forward to define and achieve joint initiatives that deliver value to our customers' businesses."
About DSC Logistics
DSC Logistics is a leader in transforming logistics and supply chain management into a critical business strategy based on collaborative partnerships, innovative thinking, and high-performance operations. DSC achieves the business goals of Fortune 500 and other dynamic companies by designing, integrating, managing and adapting customized supply chain solutions. As a Lead Logistics Partner (LLP) and third-party logistics (3PL) provider, DSC delivers value by reducing total system costs, optimizing business processes, facilitating growth and change, and maximizing the potential of the supply chain. In today's environment, filled with rapid and unpredictable change, DSC helps customers achieve their goals by being ready for anything! For more information: www.dsclogistics.com.