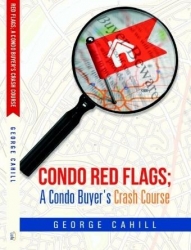 Philadelphia, PA, August 08, 2015 --(
PR.com
)-- Philly Real Estate Broker writes "Tell all Book" about the pitfalls of buying a condo.
LuLu Publishing has just released "Condo Red Flags," a condo buyer's crash course. George J. Cahill is President and C.E.O. of Luxury Condo Realty Services with executive offices in Center City Philadelphia. Cahill's hard hitting buyers guide describes in detail some of the numerous pitfalls facing first time condo buyers.
Cahill's guide cuts to the chase by pointing out seventeen potential "Condo Red Flags."
A partial list of Chapters include; How to spot problem communities. Pet Restrictions, Power Hungry Board Members, Working with inexperienced agents, the challenge of financing condos in an unfinished communities and eleven more.
www.lulu.com/shop/george-cahill/condo-red-flags-a-condo-buyers-crash-course/16807306