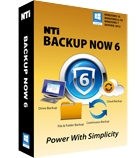 Irvine, CA, August 12, 2015 --(
PR.com
)-- NTI Corporation is proud to introduce NTI Backup Now® 6, the newest version of its popular backup and recovery software for networked PCs under Windows®, including Windows 10. Like its award-winning (PC Magazine Editor's Choice) predecessors, NTI Backup Now® 6 delivers a comprehensive yet easy-to-use solution for protecting important data in a PC network environment. Sporting a refreshed GUI, this new version features enhanced backup speed, NTI CloudTM Backup, and a new Job Management console that makes managing your backup jobs so much easier.
As an integrated all-in-one solution, NTI Backup Now® 6 delivers a very comprehensive set of features, including:
Remote Backup of networked PCs on a home or business LAN
File & Folder Backup
Drive Backup of complete system, including the OS, programs, data files and settings
Continuous Backup
Cloud Backup (powered by Microsoft Azure)
Backup Migration (to manage archiving of backup files)
Disk Upgrade facility
Drive Spanning
Advanced File Filtering
Pre & Post Job Scripting
Advanced backup scheduling
Automatic Shutdown after Backup
Email notification when backups are done
Secure 256-bit AES Encryption and Data Compression
Incremental backups for Complete System and File & Folder backups
Supports a wide range of backup media and destination, including internal and external hard drives, flash drives, solid state drives, NAS, optical drives, and network drives
With Remote Backup, users can back up all available PCs connected by a local area network (LAN). It also enables users to save backup job files on remote network drives and to restore data to alternate locations.
With Continuous Backup, users have the ability to automatically back up data, photo, audio, and video files every time a change occurs and can save an unlimited number of revisions, a specific number of revisions (1-1000) or no revisions. Files are preserved in their native format, so no additional software is necessary to restore files.
With Drive Backup, users can back up their entire PC (including OS, programs, data files, and computer settings) and in the event of a hard drive crash, Backup Now's disaster recovery function can quickly restore the PC back to how it was before the crash.
With Cloud Backup, users can back up their most important files to the Cloud, for that extra protection only an off-site cloud backup can provide.
NTI Backup Now® 6 can even be used as a Disk Upgrade tool that helps users upgrade their PC to a larger HDD or a faster SSD. All they need to do is let Backup Now® 6 do a complete backup of the PC, and then replace the original hard drive with a new HDD or SSD and restore. Backup Now® 6 will automatically resize (shrink or grow) the original hard drive's partitions to match the new drive's storage capabilities.
Therefore, NTI Backup Now® 6 is truly the most comprehensive, easy-to-use backup solution that's perfect for home users and business users, home networks and business networks, novices and IT professionals alike.
"As a flag ship of our product portfolio, NTI Backup Now has always been a highly rated Windows PC backup software. Its history of being the world's first backup software on optical media, its winning track record of prestigious Editor's Choice awards, and its install base of millions of users worldwide all attest to its quality and reliability. In this new edition, we continue to deliver NTI's trademarked ease-of-use while making enhancements on both functionality and performance," says Bill Yao, NTI's President and CEO.
NTI Backup Now® 6 is compatible with Windows® 10, 8.1, 8, 7, and Vista; also supports Windows Server 2012/ 2008 Server RC2/ Small Business Server (SBS) 2008.
Pricing and Availability
NTI Backup Now® 6 is immediately available through the NTI online store (www.NTIcorp.com), Amazon.com, and at select retail outlets. The software comes in two license packages:
(1) A 2-user package that is good for installing on two Windows PCs. It's priced at $79.99 MSRP; and
(2) A 5-user package includes five licenses and is good for installing on up to 5 PCs. It carries an MSRP of $99.99.
About NTI Corporation
As an award-winning software developer for 20 years, with an install base of more than 250 million copies worldwide, NTI creates innovative software products that combine ease-of-use, value, and new technologies. In 1998, NTI created "Backup Now", the world's first software that utilized optical discs as backup media. Today, with popular software titles such as Backup Now EZ, Echo, MiST, and Media Maker, NTI continues its innovation in areas of Backup, Cloud Storage, and Digital Media. More information is available at www.NTIcorp.com.
NTI Corporation Contact Info
9999 Muirlands Blvd., Irvine, CA 92618, USA. Phone: +1-949-421-0720, Fax: +1-949-421-0750. Website: www.NTIcorp.com. Additional offices are located in Guangzhou, China and Taipei, Taiwan.