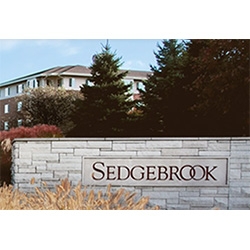 Indianapolis, IN, August 13, 2015 --(
PR.com
)-- In March, 2015, NIFS began collaborating with existing fitness staff at Sedgebrook to support a more robust exercise program for the residents at the community. Services like senior fitness evaluations, exercise prescriptions and equipment orientations will remain in place. New group fitness formats and exciting incentive and other programs like NIFS Balance Challenge will be added to the current menu of services.
Research has shown that regular exercise has profound health benefits for adults age 65 and older including decreasing fall risk and slowing cognitive decline. NIFS is committed to supporting a range of opportunities to keep exercise both safe and fun for older adults to maximize their potential for living full and vibrant lives. For example, the balance programming provided by NIFS staff in their client communities has not only shown to improve participant's scores on various measures of balance, but has also helped participants decrease their fear of falling which is correlated to overall fall risk.
"The residents at Sedgebrook value and appreciate our emphasis on staying physically fit and healthy," says Cathy Swan, Director of Resident Life at Sedgebrook. "Ruth Reyna, Fitness Center Manager with NIFS, is a wonderful addition to our Fitness program! She brings extensive experience and enthusiasm to Sedgebrook along with NIFS solid programming and reporting practices which provides us with valuable information about how the program is progressing. The NIFS program blends in very well with our approach to comprehensive wellness!"
Sedgebrook is located in the North Shore village of Lincolnshire, Illinois, and is home to almost 600 residents. This exceptional community offers more than 90 resident-driven clubs that engage residents with a variety of interests. NIFS will be supporting their fitness center, pool, and group exercise classes.
To find out more about Fitness Center Management by NIFS, call (317) 274-3432, e-mail bgarrity@nifs.org or visit www.wellness.nifs.org. NIFS media contact, Trudy Coler (317) 274-3432, email tcoler@nifs.org.
National Institute for Fitness and Sport is a non-profit organization committed to enhancing human health, physical fitness and athletic performance through research, education and service.