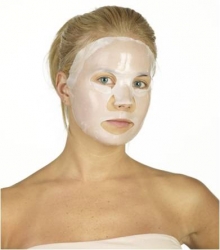 Laurel Springs, NJ, August 19, 2015 --(
PR.com
)-- Bel Mondo Beauty announced today that Toppers/Spa Salon has begun offering Bel Mondo's premium facial and eye treatment masks as part of its skin care services.
Toppers operates five day spa facilities in Pennsylvania, New Jersey, and Delaware, and has earned a reputation for delivering award-winning spa experiences – including luxury facials – to its discerning clients.
Bel Mondo was the first US brand to market facial sheet masks made from bio cellulose, an advanced, all-natural fiber with physical properties that are distinctly beneficial for skin care. Bel Mondo's mask fabrics have a cool, gel-like texture; they hydrate intensely and adhere like a second skin, enabling them to transfer ingredients far better than mask fabrics made from ordinary coarse cotton fibers.
"Bel Mondo's masks are one part skin therapy and one part pure indulgence," stated Judi Little, General Manager at Toppers Spa/Salon. "The bio cellulose fabric will bring super moisturizing and calming components to our facials and help create a distinct spa experience that our customers are really going to enjoy."
Bel Mondo offers three types of facial treatment masks: anti-aging, calming, and ultra-hydrating. The mask fabrics are pre-dosed with proven skin care ingredients, so they require very little set-up time for estheticians. The typical Bel Mondo mask application lasts twenty minutes, making them ideal for express facials, too.
Toppers will also offer Bel Mondo's new eye treatment mask – Fresh Eyes – produced with the same pure bio cellulose fabric as the niche brand's full facial masks. Fresh Eyes is infused with peptides and anti-inflammatories that soothe and smooth the under-eye zone.
"Fresh Eyes will be a popular add-on at Toppers, and has the potential to be bundled with other services like nails, hair, and even makeup," stated Bel Mondo President Lou Martelli. "Bel Mondo is extremely pleased to be aligning our professional-grade products with Toppers and its track record for combining specialized treatments with outstanding service."
About Bel Mondo Beauty
Bel Mondo Beauty has been developing and marketing the world's finest facial treatment masks since 2011. Our distinctive line of bio cellulose products is sold through select spa and retail channels. Visit www.belmondobeauty.com for more information, and follow us on Facebook (http://www.facebook.com/BelMondoBeauty) and Twitter (http://twitter.com/#!/BelMondoBeauty).
About Toppers Spa/Salon
Founded in 1981, Toppers Spa/Salon is the industry leader within the Philadelphia marketplace providing unique and luxurious environments for "a world away right around the corner" spa experience, for both men and women. There are currently five Toppers Spa/Salon locations in PA, NJ and DE. Visit their website at www.toppersspa.com.