"You-Turn" Pulls Into First Place as Amazon Bestseller
Nonfiction "You-Turn: Changing Direction in Midlife" recently peeled out as #1 Amazon Bestseller in lifespan development and hypnosis categories. A collection of "over 40 stories of people over 40" who made amazing changes in midlife, "You-Turn" is also loaded with self-help tips for reinvention at any age.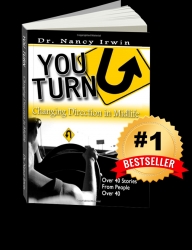 Los Angeles, CA, August 18, 2015 --(
PR.com
)-- "You-Turn: Changing Direction in Midlife" (June 2008) recently achieved #1 Amazon Bestseller status. Dr. Nancy Irwin, a Los Angeles-based doctor of psychology and clinical hypnotist, wrote this self-help non-fiction book to inspire others that it is never too late to live a life you love. This collection of "over 40 stories of people over 40" chronicles successful transitions in people's personal and/or professional lives.
Originally from Atlanta, where she trained as an opera singer, Dr. Irwin moved to New York City in 1985 to pursue a career as a stand-up comedian. She worked all over the country and abroad, and moved to L.A. in 1994 when she heard that Hollywood needed more blondes. She quips: "The road from comedy to mental health is very short, indeed."
Dr. Nancy experienced an epiphany when she began volunteering for a shelter for sexually abused children. It changed her life, and prompted her to pursue a doctorate in psychology and to specialize in the prevention and healing of child sexual abuse. You-Turn not only shares her own story, but also 43 other you-turns from a variety of people - some simple, some dramatic: a convicted crack dealer who became a real estate investor, a mother of nine who started a foundation for the leprosy-affected, a monk who became a motivational speaker, a recovering pedophile, a man who became a spouse and parent after 40, a woman who finally embraced her sexual identity after years of denial and abuse, and more. The stories are divided into two parts: change by default (injury, break-up, lay-off, etc.) and change by choice (boredom, lack of fulfillment, etc).
Like a Chicken Soup for the Soul for Baby Boomers, this book is for the fearful and frozen...anyone who feels stuck in struggle yet really wants to move forward. Dr. Irwin states: "I've included some professional tips on navigating change at any age, but the emphasis of the book is on the stories told in first person. Everyone can identify with one or more of the stories in this book. I did not want to write an academic 'do-this-in-order-to-feel-that' book, because what has helped me reinvent myself so many times was seeing real-life people do amazing things. I figured if they could do it, why couldn't I? It is my hope that we all begin seeing you-turns everywhere, so they become the rule rather than the exception. Twenty- and thirty-somethings especially can benefit from these stories so they will feel free to explore, question choices, and change directions, to avert what used to be called a 'middle age crisis.' We now call it a middle age blaze!" Available on Amazon.com.
Contact
Dr. Nancy B. Irwin
Nancy Irwin
310-235-2882
www.drnancyirwin.com
Cell: 310-228-8548
Fax: 310-235-2884

Contact