Booboo Stewart of X-Men and Twilight Saga Joins the Cast of Historic Native American 'Red Man's View' Movie
Stewart is "Miakoda" in the Native American drama 'Red Man's View.'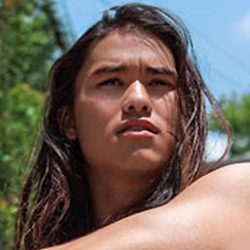 Los Angeles, CA, August 20, 2015 --(
PR.com
)-- Booboo Stewart best known for playing 'Seth Clearwater', a werewolf in The Twilight Saga, and 'Warpath' in the X-Men:Days of Future Past has joined the cast of the Native American film, 'Red Man's View'.
Stewart, who is himself of Blackfoot lineage, will be portraying 'Miakoda' the weapons maker of a Shoshone band that reside in Northen California, who are caught in the midst of the American Civil War era. Also in the cast is Saginaw Grant (The Lone Ranger), Billy Drago (The Untouchables, Delta Force II), Zahn McClarnon (Longmire, The Red Road), and Michael Spears (Dances with Wolves, Bury My Heart at Wounded Knee). Also with Stewart will be his father Nils Stewart, well known actor/stuntperson, who will be Fight Chreographer and also have the role of 'Squatter Slade' in the film.
'Red Man's View' is a remake of a Native American silent film made in 1909, but goes much further than its silent movie predecessor did, showing the disenfranchised band of Shoshone caught in the midst of the American civil war, the attempted extermination of Native Americans, and bringing to light much of the Native American history that has been ignored for so many years. This is why many consider this on of the most powerful and important Native American films t done in years.
Producer Thomas R. Bond II says "We are very happy that Booboo Stewart is a part of this historic film, and hopefully this will bring the attention of younger audiences and how important heritage and history are, especially in the Native American community." Bond also is very proud of showing Native Americans as 'People', "This film is something everyone can relate to; family, hardships, and strength in adverse times."
Contact
Magic Introduction Co.
Thomas R. Bond II
818 200 0222
www.redmansview.com

Contact