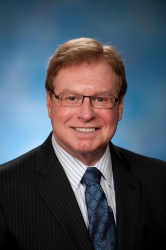 Ann Arbor, MI, August 20, 2015 --(
PR.com
)-- Dr. Robert H.Burke, director of the Michigan Center for Cosmetic Surgery proudly announces the newest cosmetic injectable, Kybella for the non surgical treatment of "double chins." Kybella is the first and only FDA approved injectable that improves the profile of moderate to severe fat below the chin (submental fat or fullness).
The American Society for Dermatologic Surgery, in a 2014 survey found that 68% of people said they're bothered by submental fullness, referred to as "double chin." This common yet undertreated facial aesthetic condition impacts a broad range of adults, including both men and women. Causes of this condition include aging, genetics and weight gain.
Kybella is an FDA approved injectable substance that dissolves fat under the chin (non-surgical double chin fat reduction). Previously, chin fat reduction was only possible with an invasive procedure (liposuction or surgery). With this, treatment takes less than 30 minutes and involves injections into the upper neck region under the chin. No surgery, and minimal recovery.
Kybella actually destroys fat cells. It is identical to deoxycholic acid (a substance your body makes naturally) which helps absorb fat. The drug acts by destroying the fat cell's membrane, causing it to burst. What remains of the fat cell is absorbed back into the body via normal metabolic pathways. Because the fat cells are actually destroyed, the results are long lasting and may be permanent. Patients saw the changes last at least 2 years in preapproval studies.
The Michigan Center for Cosmetic Surgery, directed by Robert H.Burke, MD, FACS is committed to providing state of the art innovations to those seeking noninvasive and minimally invasive cosmetic surgical care. Combining science with technology, Dr. Burke provides noninvasive and minimally invasive state of the art solutions to those seeking a positive change in their appearance while wishing to avoid invasive surgery. "Our goal is to provide safe, scientifically based cosmetic surgery and medical patient care including advanced state of the art injectable formulations," according to Dr. Burke.
Dr. Burke, is a Clinical Professor at Michigan State University and an Adjunct Clinical Professor at the University of Michigan. He is principal investigator in FDA pre and post approval studies.
Dr. Burke is actively involved in research and teaching Cosmetic Surgery and Medicine throughout the world. He currently serves as trustee of the American Board of Cosmetic Surgery and Treasurer of the American Academy of Cosmetic Surgery.
www.RobertBurke.com
bthebestmccs@gmail.com
www.annarborcosmeticsurgery.net
1-800-487-4840
1-734-971-0262