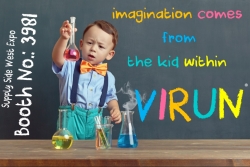 Pomona, CA, September 01, 2015 --(
PR.com
)-- VIRUN® NutraBIOsciences™ moves forward in its expansion as it signs a new lease for a new 10,000 sq. ft. R&D facility in Pomona, California.
They've become too big for their britches, so it's time for new pants.
It's expansion time. The California Competes Tax Credit VIRUN recently received is translating into new opportunities, as VIRUN heads for new headquarters in Pomona, California. The 10,000 square foot facility will feature a 3,000 sq. ft. laboratory, 5,000 square feet of production space, and new open-space offices promoting a Google-style working environment. From here, VIRUN will further render its credibility as a leader in California biotechnology, including beverage manufacturing, spray dry powder encapsulation, soft gel encapsulation, liquid emulsions, nanotechnology and R&D/finished product development. The build-out is underway and they should be settled into their new digs by November, 2015. The lab-warming party is in planning stages, and invites will be sent out soon.
VIRUN CEO and co-founder Philip Bromley explains why smart ingredients require smart delivery technologies at the Cognitive Health Online Summit 2015:
"It is 2:00 in the afternoon, and your mind is on a fast-track downward spiral into oblivion. You feel blurry, fuzzy, and ready to take a nap. What is my meeting about? Where are my glasses? Why don't my notes make sense? This is that dreaded decline in cognitive function that everyone seems to suffer throughout the day. Coffee doesn't fix it. Amphetamines are illegal. Can't anything be done to fight this utter synaptic failure? Why yes," replies Philip J. Bromley, VIRUN CEO and Co-founder. Just register for the NutraIngredients-USA Cognitive Health Online Summit, to be held on September 2, 2015. Listen to Mr. Bromley's explanation of why smart ingredients require smart delivery technologies. "Once you understand the correlation between the pharmacokinetics of cognitive ingredients and their stability in finished products, you can create a cognitive beverage or shot that can fuel your brain all day long. Nothing illegal added." Additionally, join other elite speakers, leaders and businesses as they explore such subjects as current market dynamics for brain boosting ingredients and products, designing cognitive health products for the key life-stages, the role of the gut-brain axis, and take a look at sector's big fish: Omega-3.
Supply Side West Expo 2015
VIRUN and Pacific Deep Ocean Biotech Co., Ltd. will exhibit their technologies and new product developments at the upcoming Supply Side West Expo and Conference, held October 5-9, 2015 at the Mandalay Bay, Las Vegas. Join them at booth number 3981, where science and imagination collide. Become millenialized as high-tech goes vintage and VIRUN's Esolv® and DPtechnologies™ lead the way to a new generation of functional beverages, shots, powders and gels. VIRUN scientists will be offering clear waters and beverages for expo visitors' sampling pleasure. Additionally, meet VIRUN's friend and colleague, Amy Mitchell of FreedomOne™, as she provides information about and samples of Freedom Flex Rescue®. Freedom Flex Rescue has been chosen by SupplySide West as one of five top finalists for SupplySide West's CPG Editor's Choice Awards in the Supplement: Joint Health Category. Remember, as John Dewey said, "Every great advance in science has issued from a new audacity of imagination."
Limited Edition VIRUN T-shirts now available on their website:
VIRUN has gone retail. The VIRUN website now carries a "Shop VIRUN" page, where, for a limited time, special edition VIRUN t-shirts will be available in two different full-color designs. Also, show VIRUN pride by sporting the official VIRUN sticker, adding color to any car window, surfboard, skateboard, laptop, phone case, or forehead…
About VIRUN:
We are a NutraBioSciences™ company formed in 2003 and headquartered in Walnut, CA. We emphasize the safe and efficient delivery of pharmaceuticals and nutrients to the human body through use of our patented and patents-pending technologies. VIRUN's pharmaceutical and dietary supplement technologies allow improved bioavailability through nanotechnology and Transferrin conjugation that target specific cells within the body. Additionally, VIRUN's Esolv® and DPtechnology™ allow water-insoluble nutrients to be clear, water-soluble and stable in food, beverage and supplement applications. VIRUN's innovative solutions and brands include Omega-3 EPA DHA branded as OmegaH2O®, Resveratrol, CoQ10 branded as CoenzymeClear™, Astaxanthin, PQQ branded as PQQwater™, Lutein, Phytosterols and Curcumin. VIRUN is a fully integrated research and production facility with manufacturing in California and finished product processing also in California.
About PDOB:
Pacific Deep Ocean Biotech Co. ("PDOB") is known for developing a new source of mineral nutrition from the deep ocean waters on the East Coast of Taiwan. PDOB's products include deep ocean mineral compounds, concentrate liquids, and powders, which are Magnesium-standardized and contain more than 70 difference mineral and trace elements. PDOB products are easily absorbed by the human body, supported by clinical research and scientific studies, and ready to be formulated into beverages and health supplement products. These products are perfectly suited to beverage applications associated with fatigue relief and accelerated recovery after physical exercise, and are highly synergistic with Virun's Esolv® OmegaH20® product line. PDOB is headquarted in Taipei, holds its International Office in Germany and manufacturing facilities on the east coast of Taiwan.
About FreedomOne:
FreedomOne, headquartered in Colorado Springs, CO was formed in 2008 to market state of the art dietary supplements that are developed by Fast Acting Foodaceuticals LLC, a private label R&D company. Freedom One's mission is to market quality products that focus on the consumers' needs then deliver the promised benefit. The key to this success is achieved by utilizing high quality, branded raw materials, deliver the research-supported therapeutic dose of the ingredients, manufacture quality products utilizing exclusively-licensed delivery technology and then let the product speak for itself.
VIRUN
Nina Parker
Business Coordinator
(909) 839-0629
email: nina.parker@VIRUN.com
www.virun.com