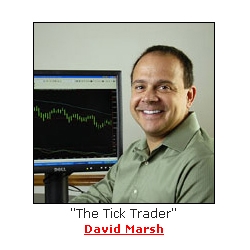 Midlothian, VA, December 07, 2007 --(
PR.com
)-- Last month marked the launch of day trading guru David Marsh's highly anticipated web site (http://www.eminitradingstrategies.com) and E-Mini futures day trading course "The Tick Trader®". For years Marsh has been one of the most respected names in the S&P 500 E-Mini's field, and now beginners nationwide will be able to profit from his years of knowledge.
An E-Mini is a mini contract traded exclusively on an electronic trading facility (E-Mini is a trademark of the Chicago Mercantile Exchange). Marsh's E-Mini futures day trading course guarantees that "The Tick Trader®" method will deliver one point every day the market is open on the S&P 500 E-Mini Contracts.
Because Marsh is offering himself up as the sole point of contact for customer service, he has limited the number of Tick Trader courses he has available.
"I guarantee that I will be there for email and telephone support," said Marsh. "I truly want my clients to be successful E-Mini Day Traders. Because giving individual attention will be time consuming, I am limiting the number of Tick Trader Courses I sell to the time I have to spend on support."
Marsh has so much faith in his new course that he hasn't only put his reputation on the line, he's put his own money on the line. He's decided to back the program with a 60 day double money back guarantee, a very unprecedented move.
About David Marsh and eminitradingstrategies.com
David has been involved in the markets since the early 1990's. He started with futures trading, then moved on to options trading, graduated to stock trading, then full circle, back to futures trading—where he stayed permanently. In late 2007 he launched his new web site and E-Mini Day Trading course "The Tick Trader®". For more information, please visit http://www.eminitradingstrategies.com
###