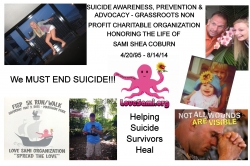 Fort Lauderdale, FL, September 07, 2015 --(
PR.com
)-- The Love Sami Organization, dedicated to suicide prevention, advocacy and awareness, will be holding a candle light and lantern lighting memorial ceremony on Thursday, September 10th in observance of World Suicide Prevention Day. The ceremony will be held at the Washingtonia Avenue Portal on the beach in Lauderdale by the Sea.
Love Sami Organization is a 100% non profit grassroots organization dedicated to raising awareness about suicide prevention, awareness and advocacy. The World Health Organization (WHO) reports that every year, over 800,000 people die from suicide; this roughly corresponds to one death every 40 seconds. The number of lives lost each year through suicide exceeds the number of deaths due to homicide and war combined.
According to Love Sami Founder, John Coburn, "Suicide is the fifth leading causes of death among those aged 30-49 years in 2012 globally and is the second leading cause of death in the 15-29 years age group in 2012 globally as well.
"Overall, it is estimated that during 2012 for each adult who died of suicide there were over 20 others who made suicide attempts. The psychological pain that leads each of these individuals to take their lives is unimaginable. Suicide is complex with psychological, social, biological, cultural and environmental factors involved. Connectedness is crucial to individuals who may be vulnerable to suicide. Studies have shown that social isolation can increase the risk of suicide and, conversely, that having strong human bonds can be protective against it. Reaching out to those who have become disconnected from others and offering them support and friendship may be a life-saving act.
"We want people who are despairing and thinking about suicide to know that there is help available. All you need to do is to ask for help. We expect 100 people to turn out. Ceremony's such as these mean so much to the survivors of suicide."
Love Sami Organization provides therapeutic healing experiences to suicide survivors, their family members and their loved ones as well as to veterans. These experiences include such memorable and unforgettable trips like shark tagging with the Guy Harvey Research Institute, dolphin swims, art therapy programs, discover scuba diving programs and so much more.
The organization also works heavily with Veterans. Currently twenty two Veterans every day take their lives by suicide. September 13th, Love Sami Organization will be taking a group of veterans to one of their sponsors, Dade City's Wild Things, to be able to swim with a baby tiger cub.
Love Sami Organization was founded by John Coburn, whose daughter Sami Coburn, 19, a New Jersey, Mays Landing resident, took her life in August of 2014. Devastated by the loss of his daughter and trying to find a way to heal himself, he found that by reaching out to others in a similar situation had a healing effect for him. With Love Sami, he hopes to be able to touch the lives of other survivors in a powerful positive healing way.
John's youngest daughter, Sami, was a very giving and caring young lady and she was known for always helping and reaching out to others. Sami also held near and dear to her heart special needs individuals and to that end Love Sami created the six tentacles of giving. The Love Sami logo, an adorable pink octopus, has only six legs which give a nod to the special needs she cared about so much. Each tentacle represents a "giving" back cause: Veterans, Autism, Breast Cancer, Special Needs, Ocean Conservation and Transplant Foundations.
Love Sami works with other like minded organizations such as Florida Initiative for Suicide Prevention, American Foundation for Suicide Prevention, Tomorrows Rainbow and many others to create as much awareness as possible. Love Sami participated in the FISP 5K event May 9th, where founder John Coburn placed at 4th in his age group. Love Sami will be doing the Out of the Darkness walk with AFFSP October 4th for the New Jersey/Philadelphia area. Future walk plans include walking for Autism at Nova Southeastern University September 26th in Davie, Florida and a walk coming up in 2016 at Disney World in Orlando.
Love Sami raises money to provide these services to survivors by hosting fundraisers throughout Florida and online. Their first event which was held in April at the Fort Lauderdale location Fishtales was hugely successful and included raffle prizes and a silent auction with items being donated by Guy Harvey, Wyland, Hard Rock Hotel and many other amazing businesses. They have several events planned for 2015, including a paintball shoot out, a BBQ Picnic, Passions Nightclub and a golf tournament. There is also a Love Sami store where you will find numerous items for sale, such as limited edition designed walk T-Shirts, pens, mugs, hats, and so much more. All proceeds raised are used to fund the trips and events for survivors, the billboard program, the Love Sami Village and other like minded healing programs and therapies. Most recently, they created a petition on Change.org: Pass Love Sami's Law. They are petitioning the US Government for changes to be made for the betterment of suicide prevention.
Future plans include billboards in New Jersey and Florida which will feature the suicide prevention line phone number. Funds are being raised for the billboards on the Go Fund Me website. The organization hopes to create a Love Sami village in the Florida Keys where survivors can go at no cost to participate in many experiences such as paddle boarding, boating, sound healing, yoga, meditation and more in a tranquil, peaceful setting surrounded by nature and on the ocean.
Love Sami is completely volunteer run and their goal is to be recognized as a four star charity. At Love Sami event's you will find a compilation book with all their goals, achievements and events. Inside you will find their most current P&L statement, making them a completely transparent organization.
To learn how you can become involved message Love Sami Organization at info@lovesami.org or visit their website at www.LoveSami.org.