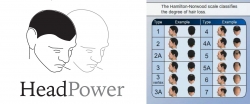 Toronto, Canada, September 11, 2015 --(
PR.com
)-- HeadPower, the premier provider of
Scalp Micro-Pigmentation
(SMP), which uses specialized non-surgical equipment to reproduce the color, depth and quality of individual hair follicles, announces Toronto Scalp Micropigmentation Training. This concierge-like center, where clients suffering from male pattern baldness or patients with severe hair loss because of a chronic health condition receive customized care, is also an intimate and comfortable learning environment for individuals interested in learning the art and science of scalp micropigmentation.
The program includes 3 home study modules to be reviewed prior to an intense 3 day hands on training at the HeadPower facility. The training covers every aspect of Scalp Micropigmentation, including transplant scar camouflage. The clinic provides live models during training to ensure students are well trained and confident upon graduation. Individuals taking the course will learn every detail of the business and procedures, and will finish the training possessing the entire skill-set needed to start working as a certified Scalp Micro-Pigmentation Technician.
Hair Replication is the fastest growing segment of the multi-billion dollar hair loss industry. The training includes in-depth information as well as one-on-one instruction from their senior technicians. Upon completion of the training session, technicians will have the certification, confidence and hands on training in Scalp Micropigmentation and Transplant Scar repair to immediately start taking clients. They do offer off site continued education. Students have the ability to Skype in to various treatments for more personalized learning and to accommodate their location or travel barriers. Scalp micro-pigmentation has been exploding in the consumer market as clients realize that the procedure is available in Canada. Thanks to U.S. and European companies heavily marketing Hair Replication there is now a great demand in the Canadian market
The technique itself, for which each HeadPower expert has significant training in, involves the use and precise application of a safe and non-toxic series of pigments, and is a non-invasive and attractive alternative to hair transplants, wigs, prescription drugs and other less successful procedures. "The HeadPower SMP Training program will prepare individuals for real world scenarios. We make sure that individuals are properly trained and able to start taking clients right away," says Steve Greer, Director of Media Relations for HeadPower.
About HeadPower
Headquartered in Toronto, Canada, HeadPower is a leader in the use of Scalp Micro-Pigmentation (SMP). The Center also provides training for individuals seeking to participate in the multi-billion dollar hair loss market. The process is a popular option for men and women, as well as individuals suffering from hair loss, who want to restore the natural look of a clean, closely cropped head of hair. For more information about SMP Training in Toronto, please visit http://www.headpower.ca.