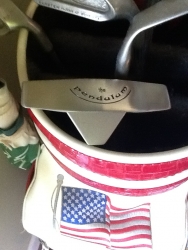 Atlanta, GA, September 16, 2015 --(
PR.com
)-- www.nstraconsulting.biz - Pendulum Golf of Georgia, maker of The Pendulum Putter announced today that it will be a sponsor in the 7th Annual Manna Fund Golf Classic to be held September 28, 2015 at St. Ives Country Club in Johns Creek GA. Manna Fund is a non-profit organization dedicated to providing hope and financial assistance to individuals who need treatment for eating disorders. Manna Fund provides funds for residential and inpatient eating disorder treatment for individuals lacking insurance coverage or for those with inadequate insurance coverage.
"We are pleased to sponsor this year's putting contest and are grateful to Genie Burnett for the opportunity to participate," said Gene Wright whose firm Northstar Consulting manages distribution for The Pendulum Putter.
Designed by world renowned architect Tom Fazio, the St Ives Golf Course is of championship quality. The 18 hole Course blends beautifully with the natural undulations of the topography in the area, and is surrounded by a beautiful buffer of woods. Considered by many to be one of the finest golf courses in Georgia, it is a challenging, yet friendly Course with broad fairways, and a geography that makes it walkable.
The Pendulum Putter possesses 2 US patents for utility and design and conforms to the United States Golf Association (USGA) rules for tournament play worldwide for professional and amateur players alike. Proudly made in the USA, its unique design elements include a revolutionary "V" wing design with a putter face that features a 2 1/2" sweet spot, perfect balance point and a front face angle of -1 degree of loft that reduces ball hop off the face for a smoother, truer roll on the ball.
For more information or to arrange an interview, please contact Gene Wright at 404-479-4359