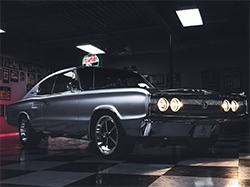 Clifton, NJ, September 18, 2015 --(
PR.com
)-- There is no denying that winters are getting colder and lasting longer these days. While most people are very conscious of how to keep themselves warm and safe, they are often times neglecting their investments.
Vehicles, whether old or new, affordable or expensive, are made with a wide range of materials. Many of these materials are not designed to last for extended periods of time at low temperatures. Various types of rubbers and plastics get very brittle at low temperatures. In addition to getting brittle, most materials expand and contract with temperature changes.
This combination of shrinking and becoming brittle results in parts failures. When looking for vehicle storage, it is important to not only seek storage that is safe for your vehicle, but climate controlled. Climate controlled storage will ensure that the vehicles are exposed to temperatures that are well within the useable range for the materials they are comprised of.
"If you aren't careful, things start to dry up and crack pretty quickly if left outside. We see hundreds of beautiful cars parked in parking garages that are just deteriorating," says Art Poltorak, Owner of Premier Restoration Enterprises.
In addition to having your vehicle in a climate controlled environment, it is a good idea to drive the vehicle a few miles every so often. Components like seals and gaskets can be lubricated by the movement of parts. If the car doesn't move, these seals can dry out and start cracking, even if the vehicle is in a climate controlled garage. This is why many experts recommend driving the vehicle even if it is only a few miles here and there. The movement of shocks and bushings as well as the rotation of the engine and transmission help to prevent parts from prematurely failing.
"We help our clients protect their investments by not only offering about 20,000 square feet of climate controlled storage, but by also offering trickle charging, startups, maintenance driving, spring commissioning, and full detailing. Basically, we pamper the vehicle to keep it in its best shape for the long haul. This will not only ensure the vehicle is ready to be driven at any time, but it will help to keep the value up. Let's face it, these cars aren't cheap, and there is no point letting them sit in a parking garage and fall apart," explains Poltorak.
"To make things even easier for our customers, we also offer a valet service. This consists of pick-up and drop-off at the client's request, with vehicles fully washed, fueled, and ready to be used upon delivery," finished Poltorak.
As winter approaches, now is the time to start thinking about reserving your storage spot. Below is a list of 5 key things to look for when seeking a vehicle storage facility.
1. Security – is the car going to be safe?
2. Climate Controlled – is the temperature regulated?
3. Services – are there services available to keep the car in good working condition?
4. Availability – how hard is it to get the car back out of storage once you put it in?
5. Access – is the facility easy to get to with and without a vehicle? There is nothing worse than needing to get your car, but not having a way to get there.
It may only be September, but some of the best storage facilities house vehicles year round. This means that a good percentage of their capacity may already be taken. As they say, the early bird gets the worm, so think ahead and prepare for your winter storage now.
The tips and information above are from Premier Restoration Enterprises, who specializes in automotive restorations, modifications, and vehicle storage with valet services.
About Premier Restoration Enterprises, Inc.
Located just 10 minutes outside of New York City, in Clifton, NJ, Premier Restoration Enterprises, LLC has the experience and expertise to build, restore and/or modify your vehicle. Premier Restoration Enterprises specializes in total restorations, modifications, and suspension or drivetrain upgrades for a wide range of vehicles. Custom heated and cooled storage with valet services including vehicle pick up and drop off, customer pick up and drop off, detailing, hand washing, trickle charging, and more are available as well for your vehicle. Free nationwide pick-up and delivery is available on full restoration jobs. No job is too small or too large. For more information or to get your next project started, visit
www.premierrestony.com
or contact Arthur Poltorak and his staff at 973-546-1800 or at info@premierrestony.com.