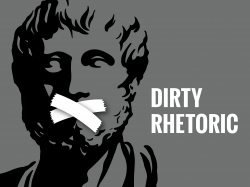 Pelham, NY, September 18, 2015 --(
PR.com
)-- fassforward Consulting Group just launched a full spectrum communication tool kit for anyone working with words, from the boardroom to the classroom. Reinventing the notion of rhetoric, Dirty Rhetoric offers users a comprehensive and easy-to-understand list of techniques that writers and presenters can use to not only be more persuasive but more memorable and ear-catching as well.
Rhetoric is the art of persuasive language. It's the technique at the heart of advertising, movies, presentations, and every great speech that ever moved a person, a company, or a nation. It's the tool that captures an audience, convinces them, and then securely anchors a message. What separates memorable communication from mere noise is rhetoric.
For years, the study of rhetoric has been overlooked. That's probably because it requires learning incomprehensible Greek terms like diasyrmus (rejecting an argument through ridiculous comparison) or anadiplosis (repeating the last word from the previous line at the beginning of the next one).
But rhetoric is far too important to be ignored. A mounting body of research is demonstrating rhetoric's powerful influence. For example, experiments have shown that people are more likely to think a statement is accurate if it rhymes or is easy to understand.
fassforward, seeing the need to update the world's understanding of rhetoric, created Dirty Rhetoric. Over the past few months, their content developers have worked with public-speaking coach and author of The Presenter's Blog, Peter Watts Paskale, to translate, define, and depict visually all major rhetorical techniques.
About Dirty Rhetoric
Each card in Dirty Rhetoric features a different way to play with language. They've replaced the original Greek name with a descriptive English one, provided a definition, a picture, and some examples. The concepts are then presented in four usage categories - persuasion, description, scaling, and memory.
There are many different ways to use Dirty Rhetoric. For example, Writer's Block is a single-player game that encourages players to come up with their own quotable phrases using rhetorical techniques. Favorite Phrases is a 4-5 person game where each player tests their knowledge of famous quotes. Little Pleaders, meanwhile, is a fully structured classroom workshop designed to help educators as a classroom resource.
If you're a writer, storyteller, marketer, or educator who wants to have their message heard, Dirty Rhetoric is an essential tool.
Dirty Rhetoric is available through Kickstarter or at DirtyRhetoric.com.