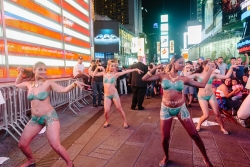 New York, NY, September 20, 2015 --(
PR.com
)-- New York City is abuzz with chatter about the latest source of contention to hit Times Square: nude women in full body paint posing with onlookers for money. The press and general public have gone crazy over this story with multiple view points, and now Rebtel (
www.Rebtel.com
) has tactfully danced its way in to the eye of the storm. Last night Rebtel pulled off a well-crafted move that had Times Square roaring, and a slew of cameras snapping. The flash event featured a handful of gorgeous nude Bollywood dancers clad in only body paint styled in the design of green and gold half Sarees. The women hit Times square at 9:45 PM and were filmed dancing to the popular Indian song, Chammak Challo, at the Pedestrian Plaza in Times Square
https://youtu.be/orZ5z_Y_cKU
. A fast crowd gathered to watch and hopped in for free photo ops following the flash event, including the current controversial times square Desnudas. Combining eyebrow raising female nudity, the use of body paint in Times Square, seductive Bollywood moves, and the daring choice of an incredibly risqué stunt for a generally conservative culture, Rebtel now stands alone among competitors such as Skype and Reliance, not only for their extremely affordable Unlimited Calling Plan to India, for just $8 a month with the first month free (
www.rebtel.com/indiaunlimited
), but also for their eagerness to ignore boundaries and become the latest topic in the already heated debate over such displays; all in the name of creating conversation within the Indian community. The topless dancers ended their dance holding a sign that said "Rebtel Gives You Something to Talk About #IndiaUnlimited."
"Rebtel's Indian users are a generation of free thinkers, free speakers, and free spirits," states Varun Atrey, Rebtel Marketing Manager. "The way for us to get their attention is to step outside of the box and look at what makes such a demographic tick. Why let cultural conventions allow us to shy away from something that has people talking, when we know that our audience will applaud our efforts to change the tide using any means necessary. This video is our way of proving to rebellious fans that we are not afraid of upping the ante in order to spark communication. We are proud that Rebtel represents a new generation of free thinkers."
Rebtel's racy flash event and video of the event is already shaking up the Indian consumer market, addressing the disparity between conservative Indian culture, and the exhibitions of nudity that are currently raising questions about women's rights to freedom over their bodies. Rebtel is not afraid to propel these questions, believing that they will prove to trigger even more discussion and lively debate between Indians living in America and their loved ones back home, making unlimited calling even more necessary than ever before. The telecom company is truly giving New York City and all of the United States something to talk about, and quite timely for their Unlimited calling release to India.
The flash event was filmed by Bravo Media with Beautiful Planning Marketing & PR Firm behind the stunt. Body paint was masterfully applied by well-known body paint artist Andy Golub. Dancers for the stunt were provided by Mixt Dance Group. The dance was strategically built from famed Bollywood movie Ra One and choreographed by Bollywood Touch's lead choreographers, Monica Desai and Sanchi Lunawat. The body paint was fashioned in the style of the Chammak Challo scene.
To see Rebtel's much talked about new video for yourself visit
https://youtu.be/orZ5z_Y_cKU
. For more information on Rebtel's Unlimited Calling to India plan or to connect for media interview purposes please email
eosborn@beautifulplanning.com
or call
1.877.841.7244
. To download the app visit:
http://www.rebtel.com/en/Get-Rebtel/.
About Rebtel
From its beginnings as a plucky start-up intent on disrupting the telecom industry to its present day status as one of the most successful digital international calling companies in the world, Rebtel has always remained true to its vision of providing user friendly, cheap, and high quality communication to immigrant communities across the globe. Rebtel was founded in 2006 and is a profitable company with a turnover of $95 million in 2014. Rebtel is headquartered in Stockholm with team members across the globe.