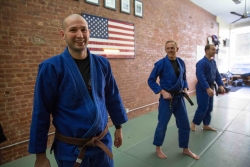 Brooklyn, NY, September 22, 2015 --(
PR.com
)-- Maintaining its long-standing tradition of charity support, Brooklyn Brazilian Jiu-Jitsu, Brooklyn's premier network of cooperative martial arts schools, spent the month of August raising awareness and funds for the Pulmonary Hypertension Association.
Pulmonary Hypertension is a rare and often misdiagnosed heart disease that causes high blood pressure in the arteries of the lungs. It's progressive, there is no cure, and it can eventually lead to heart failure.
Inspired by a student with a family member who was recently-diagnosed with PH, the Brooklyn martial arts organization embarked on a month-long campaign of awareness about PH inside and outside its dojos.
The Pulmonary Hypertension Association is a community-based nonprofit that relies on donations to fund its many programs, including the nation's largest PH patient and caregiver support group network, lifesaving early diagnosis awareness and education programs, specialty care resources, and research to find ways to prevent and cure PH.
"We jumped at the chance to raise awareness for this important cause," says Professor Jason Lynch. "Our work is about teaching people to live healthier lives, and PHA is fulfilling a likeminded mission. We see this is as a way for us to get personally involved in the cause on a larger level."
It's a natural fit, Lynch continues, because physical fitness is at the forefront of BBJJ's mission. The Brooklyn martial arts schools focus on the health and well-being of adults and children in five neighborhoods - Bensonhurst, Cobble Hill, Clinton Hill, Dyker Heights and Gravesend. But its charity work extends beyond those neighborhoods.
"We believe in serving our communities by raising the standards of health and fitness for our students, and then encouraging them to share that with the world at large," says Lynch. "PHA and pulmonary hypertension awareness was a great way to do it."