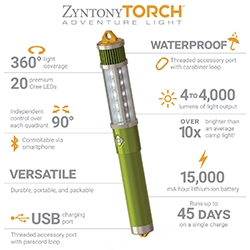 Salt Lake City, UT, September 22, 2015 --(
PR.com
)-- What if you could have tremendous light output, but it could also be directed in any one or more of four quadrants, could be hand held or hung up, could be recharged by solar or electrical sources and would be good for up to forty-five days on one charge?
The Zyntony engineering team have created the Torch, combining the features of both a flashlight and a lantern in a super-bright portable lamp. "It is NASA quality engineering," says DW Crosby, owner of Benson Energy, "reliable, rugged, and efficient."
The Zyntony Torch™ is refreshingly unique in the world of outdoor adventure lighting—the perfect companion for all your nighttime outdoor adventures. This patent-pending design is gorgeous, yet rugged, waterproof, and compact. Its 20 Cree LEDs are designed to deliver up to 4,000 lumens of light in a 350-degree arc, with independent control over each 90-degree quadrant, providing just the right amount of light, just where you want it. It is controllable via smartphone with bluetooth technology, and it can charge your electronics with its built in USB port. In short, it's portable, packable, and powerful.
Zyntony is funding the launch of this extraordinary product through Kickstarter. Those who make pledges to support the product are offered rewards and/or deep discounts on the torch.
Benson Energy (founded 1992) is focused on energy saving products and processes, primarily residential. The All Season Control Cover, chimney top masonry fireplace damper system is the primary product manufactured by Benson Energy. Benson Energy also focuses on emergency preparedness issues and marketing products such as Jim Phillips Winter Foam Clothing. The Zyntony Torch is unique and of special interest to the Benson Energy marketing team because of its lifesaving potential in emergency situations for civilians, first responders in search and rescue, fire fighting, signaling operations, and in military and industrial applications. "This product could help save lives," Crosby says. "We hope to help the Zyntony team raise the initial funds they need to launch this incredible product and help keep the cost down for consumers and emergency personnel."
For more information, or to support the launch of the torch, visit adventuretorch.com.