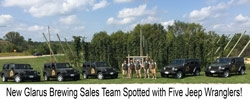 New Glarus, WI, September 23, 2015 --(
PR.com
)-- New Glarus Motors, LLC a privately owned and operated Chrysler, Dodge, Jeep, and RAM dealership located in New Glarus, Wisconsin, has delivered five 2015 4-door Jeep Wrangler Sports to the sales team at New Glarus Brewing Company. These Wranglers will be used by the sales team to safely travel around Wisconsin on their sales calls to visit local customers.
"Our sales team is excited that we partnered with New Glarus Motors and purchased these vehicles from them," says Deb Carey, Founder & President of New Glarus Brewing. "These new Wranglers will provide our sales team with a more reliable ride, help us lower our fuel costs and make sure that our sales team can get to all of our customers, no matter where they are located. Plus, these vehicles are a pleasure to drive, and we are thrilled to get them from a company located in our town."
Chuck Bigler of New Glarus Motors added that he is looking forward to hearing how the Jeep solution works for the sales team, especially through our Wisconsin winters.
"As a business in the same town, we also appreciate the synergies of working together," he says. "We have a passion for New Glarus and working with local companies to deliver reliable and fun work solutions. These Wranglers not only provide a practical solution for New Glarus Brewing, but they are also great to drive. We look forward to a long working relationship with their team, providing them with vehicles and service for years to come."
About New Glarus Motors:
New Glarus Motors is a division of Badger Truck Center, established in 1965. Badger is a second generation, family-owned truck dealership with locations throughout southeastern Wisconsin. New Glarus Motors is a new addition to the Badger Truck Center family and includes the Chrysler, Dodge, Jeep and Ram franchise. Additionally, New Glarus Motors provides a complete service and parts experience for all vehicle makes and models. Selling to the retail and commercial market, New Glarus Motors' philosophy of teamwork, integrity and open communication with customers ensures they get the vehicle they need and want at the best value. Located in New Glarus, Wisconsin, New Glarus Motors serves customers nationwide. To learn more, visit our website at www.newglarusmotors.com, or call 608-527-5080.
About New Glarus Brewing:
The New Glarus Brewing Company was formed in 1993 by Daniel and Deborah Care, who combined their considerable talents of brewing great beer and business management skills to build a state of the art award winning brewery that still honors the history and traditions of the Village of New Glarus. Dan and Deb Carey have worked hard to maintain their philosophy of world-class handcrafted beers for our friends in Wisconsin. Cheers! To learn more, visit www.newglarusbrewing.com.