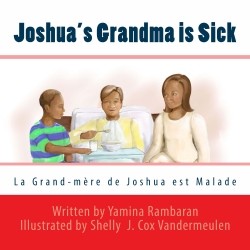 Miami Beach, FL, September 30, 2015 --(
PR.com
)-- Author Yamina Rambaran is pleased to announce the publication of her first children's book, "
Joshua's Grandma is Sick
." This poignant book tells the story of Joshua, a six-year-old boy who discovers his beloved grandma sick in bed. Accompanying his mother to his grandma's house, Joshua learns many different ways to help someone, from bringing gifts, preparing food or simply being there and spending time with the person in need.
The story offers readers a valuable lesson in empathy and the importance of serving and helping others.
"'Joshua's Grandma is Sick' will help strengthen your child's social and mental health by instilling and promoting a genuine love for humanity," says Rambaran, who understands that parents wish to be sure that the books their children read will promote virtues such as kindness, compassion, respect, honesty and love.
The book is published in both French and English so it can also be used as part of a language program; it is most suitable for children from three to eight years of age. The story is delightfully illustrated and teaches children the value of compassion while encouraging strong family relationships. Working enthusiastically on a project dear to her heart, author
Yamina Rambaran
took no more than a few days to complete the first draft of her book. This is her first children's book and she is currently busy promoting it while simultaneously working on her second book.
Joshua's Grandma is Sick is available from Barnes & Noble for $9.95. It is also available online at
www.amazon.com
, Amazon Europe and the
author's website
. Schools and libraries can obtain copies through
Baker & Taylor
.
About the author:
Yamina Rambaran holds a master's degree in Marine Biology and teaches French to both children and adults. She was therefore inspired to write her first children's book in both English and French. She is passionate about encouraging children to grow into caring and responsible citizens.