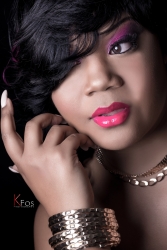 Atlanta, GA, October 09, 2015 --(
PR.com
)-- In Touch Entertainment Studios and Consultation Services is pleased to announce the launch of Ashley Martin's Branding Tour. Ashley is from Atlanta, Georgia which is where this jewel will begin her mark in expanding her talents. She will be traveling within regions of NY, MS, VA, FL, MD, TX, and CA, among other states. Ashley is known by many from her feature in Sophisticate Black Hair Magazine, Bronner Brother Shows as featured model for CHI, MY DNA Universal Products, and as the Opening Act for Tyrese Gibson Black Rose Atlanta Block Party at DBS Sounds. Ashley Martin strives to be a mogul within the music and beauty industry.
Within this year, Ashley Martin has been featured at the Bronner Brothers Show as a Beauty Model, Atlanta Carnival International Fashion Show, and Beauty and Educational Expo with celebrity stylist and crew Patric Bradley & Team Hollywood. She has an album online on Googleplay, iTunes, CDbaby, and Amazon titled, No Definition. Next month, she will be producing another music video that features her highly anticipated single.
Born in Newark, Delaware but a native of the DMV area, Ashley began displaying her talents at a young age. Her main influences are Lauren Hill, Diana Ross, Toni Braxton, Patti Labelle, Jill Scott, Mariah Carey, and Whitney Houston.
Joshua Avery, Wardrobe Stylist & Dancer states, "Ashley is an unstoppable force with talents and ability to achieve Grammys, Billboard Awards, Music Video Awards, Ambassador Recognition, and be a Global Icon."
About In Touch Entertainment Studios and Consultation Services:
In Touch Entertainment is a fully operational studio that meets the needs of entertainment professionals. Our services offer photography studio, hair care studio, film production studio, and multipurpose dance studio all within the same location. We have individualized consultation services to personalize your experience in working with our staff. Our clients love working with us because we offer opportunities to book specific studio space for their private needs.