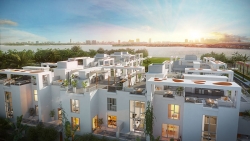 Miami, FL, October 07, 2015 --(
PR.com
)-- One Bay Residences, is the first luxury residential product to be introduced into the Miami Design District. This one-of-a-kind residential project of 38 modern, multi-story luxury condominium townhomes will be located in the Design District, on 39th St. in between Biscayne Blvd. and the Bay and is directly adjacent to Bay Point. This is a unique development along the Biscayne Corridor in that the average size of the units is around 2000 sq.ft.
The initial demand for this type of product has been quite high as it offers the buyer the opportunity to purchase a product of modern construction and design which is similar to a single family home. In contrast the average age of single family homes in the surrounding areas is more than 50 years old.
The vast majority of the residences at One Bay have large roof terraces ranging from 700 sq.ft. to 1400 sq.ft. with all of the necessary electric and plumbing connections in order to easily install outdoor kitchens and jacuzzis. The majority of the units come with private garages on the ground level as well. In accordance with how the requirements of consumers of luxury real estate products have become more demanding over the last few years, the developer has invested a considerable amount of energy in the interior details of these residences. These units will be delivered to the buyers with custom cabinetry including high tech soft close hinges, quartz countertops throughout the kitchen and bathrooms, custom glass shower doors, beautiful custom made glass stair railings, and Bosch Kitchen appliances.
The Developer, G&L, is financing the construction with private equity, and the construction will be going vertical in October with the date of occupancy slated for the fall of 2016. This project is noteworthy because the developer, Guzman & Larrain is the first developer of pre-construction projects in the Miami area since 2008 to allow buyers with U.S. residency to purchase with 20% down.
G&L is the American division of Empresas Guzmán & Larraín. With a diversified presence throughout Chile, Argentina, Spain, Italy and South Florida, Empresas Guzmán & Larraín have developed and sold more than 40,000 residences. There are presently 19 projects on the market in Chile and seven abroad; located in 13 cities within five different countries. Empresas Guzmán & Larraín boasts a portfolio of properties in excess of 560 acres in Chile, available for development in the next 10 years.
The exclusive broker of One Bay residences is La Playa Properties Group and the sales center is located at 2275 Biscayne Blvd.
sales@onebayresidences.com
+1 786 502 3260
Unbranded Website
www.onebayresidencesmiami.com/