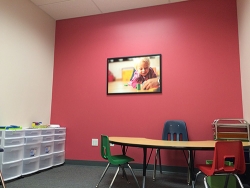 Antioch, CA, October 15, 2015 --(
PR.com
)-- "The future looks bright with organizations such as Trumpet Behavioral Health leading the way," says Dr. Mark Dixon, BCBA-D, editor of 'Behavior Analysis in Practice,' a peer-reviewed translational publication designed to provide science-based, best-practice information relevant to service delivery in behavior analysis.
Families seeking evidence-based autism therapy services in the Bay Area will soon have access to three convenient options as Trumpet Behavioral Health (TBH) opens doors to new center-based autism therapy programs in Antioch, Tri-Valley and Marin. The Antioch Autism Center will open late October with the remaining Centers to open early 2016.
TBH clinical services are based on the principles of Applied Behavior Analysis (ABA), a systematic, evidence-based approach designed to address challenging behaviors and skill deficits in areas including communication and social skills.
Trumpet currently provides in-home ABA therapy services in the greater East and North Bay areas, employing over 130 team members who strive to maximize the potential of clients of varying age and cognitive function.
Dr. Brandi Marcaletti, Licensed Clinical Psychologist with Trumpet's Bay Area locations, details the benefits provided through center-based services.
"With the embedded social interaction opportunities of center-based services, consumers will be afforded the chance to learn and grow amongst their peers within the framework of an ABA model. Families and providers tend to agree that it doesn't get much better than that."
Cassidy Medina, MS, BCBA, Clinician with Trumpet's Antioch team, notes that families of a child with autism who live in the region also have voiced the need for more resources. The new location, says Medina, will provide not only convenience for commuters, but added opportunities for parent trainings and workshops.
"Having a center will give us the space to host a variety of trainings and workshops, which is something our team loves to do. We want to be a resource for anyone who hopes to benefit their child's progress at home."
Says Jonathan Mueller, Regional Director with TBH, "Center-based services allow us to maximize our clients' outcomes in a setting with tremendous learning opportunities. We incorporate programs that allow our children to interact with peers to develop social skills while also generalizing their learning to home environments. We're really proud of what our clients are able to achieve."
Free Insurance Eligibility Review
As part of its effort to provide the best services possible, TBH created a family accounts department to educate parents and to provide free insurance eligibility reviews. TBH's insurance specialists have expertise in navigating the "ins and outs" of insurance mandates, benefits plans and Regional Center requirements. Parents can complete their requests online at www.tbh.com/insurance or they can call toll-free 1-855-824-5669, option 2. Reviews currently take five to 10 business days.
ABA Programs and Services Available from Trumpet Behavioral Health Include:
• Intensive Educational and Behavioral Services
• Early Intervention ABA Therapy for Autism and Related Disorders
• Center-Based Direct Instruction
• Language/Social Skills Acquisition
• Family Support and Skills Training
• Assessment Services
• Consultation Services
• Seminars and Conference Presentations
School-Based Behavioral Health Services
• Functional Behavior Assessments
• Program Design and Evaluation
• Individual Treatment Plans
• IEP Development and Support
• Teacher Training and Support
• Classroom Evaluations
• Coordinated Service Plans with Teachers
Parent and Family Services
• Parent Education and Training
• After School ABA Services
• Intensive Educational and Behavioral Services
• Insurance Services