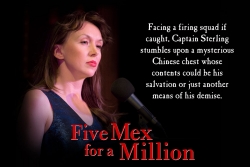 Hollywood, CA, October 16, 2015 --(
PR.com
)-- The L. Ron Hubbard Theatre located in Hollywood, one block west of the Chinese Theatre, will feature the performance of a story that the author, L. Ron Hubbard, called "drama and high tension," Five Mex for a Million, on Saturday, October 17 and 24.
Reviewed by LA Weekly, the theatre was lauded as "…a unique, rarely seen form of family entertainment where - yes! - one's own fertile imagination is required."
The performance features actor Julia Kuzina, a Russian-born actress, dancer and performer who came to the United States to become a Hollywood Actress to which dream she is well on her way.
Story description: Facing a firing squad if caught, Captain Sterling stumbles upon a mysterious Chinese chest - for a mere five pesos - whose contents could be his salvation or just another means of his demise.
Enjoy a great show, a night of live Hollywood intimate radio theater and cabaret-style comfortable seating (where every seat in the house is a good seat). The best way to spend Saturday night in Hollywood. Doors open at 7 pm, show begins at 7:30 pm. Tickets are $15 per person.
http://www.galaxypress.com/theatre-los-angeles/theatre-schedule/
The performance features:
R.F Daley, Director/Narrator
Julia Kuzina
Bill Kates
Johnny Ferretti
Musical performance by Will Seabrook
Five Mex for a Million by L. Ron Hubbard
Saturday, October 17 and 24
Doors open at 7:00 PM and show starts at 7:30 PM
Tickets: $15.00 adults, children under 8 free. Can be purchased at the door or online at www.GalaxyPress.com or www.eventbrite.com.
Parking: Free
Address: 7051 Hollywood Blvd, on Hollywood Blvd, cross-street Sycamore, between Highland and LaBrea.
Note: For the best seats, it is recommended to purchase tickets in advance.
The L. Ron Hubbard Theatre has been open since 2008 and showcases the fiction works of L. Ron Hubbard in a modern-day environment with Hollywood actors where the entire family can experience a live show radio-theatre style and mingle with the actors afterwards.
Performances range from adventure, science fiction and fantasy, to mystery and western and begin with a 30 minute live musical pre-show. All shows are appropriate for all ages.
For more information go to www.GalaxyPress.com.