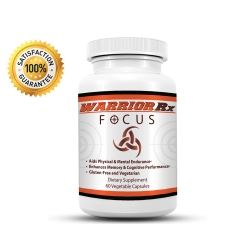 Wilmington, DE, October 15, 2015 --(
PR.com
)-- A unique, all natural cognitive enhancement and brain health supplement for Warriors from all walks of life.
Top Form Research announced today the availability of WarriorRx Focus, the latest addition to its WarriorRx line that supports a healthy lifestyle and a body, mind and soul connection.
Warrior Rx Focus is an all-natural supplement of vitamins, antioxidants and enzymes that work together to help boost mental focus, attention, clarity and memory, and promote long-term brain health. With no additives, stimulates or preservatives, this all natural supplement in an easy to swallow and digest capsule, contains a unique combination of carefully selected nutritional supplements, antioxidants and essential vitamins to create a balanced and effective daily supplement to help enhance mental vigor and vitality.
"We are thrilled to add this supplement to the WarriorRx growing family of products," said Rob LaBelle, Thought Provocateur and CEO of Top Form Research. "Top Form Research is dedicated to creating and offering all natural alternative products that supplement and aid in a healthy balance of the mind, body and soul. We did in-depth research and worked with an expert lab partner to find the unique and effective combination of ingredients to create a convenient stack in a once-a-day capsule that aids in precise concentration and focus, mental optimization and memory rejuvenation."
When consistently taken, Warrior Rx Focus helps support overall mental health and wellness while delivering positive impact on ability to focus and concentrate even in the most demanding times or circumstances; to have clarity of thought and improved recall and awareness; and heightened intelligence and information processing. The makers, martial artists and athletes, understand the importance of focus, concentration and sustained brain strength in not only training and competition, but in everyday life as well.
As a special offer, the first 100 customers will receive a complimentary bottle of WarriorRx Joint and Pain Relief, (http://www.warriorrx.com) an all natural topical rub that immediately reduces inflammation, burning, pain and soreness by eliminating toxins and impurities.
About Top Form Research
Top Form Research is an innovative wellness and lifestyle company committed to helping people maximize their potential through the use of all natural ingredients in combination with healthy eating, exercise and mindfulness. The founders embrace the belief system of having a balanced healthy mind, body and soul and are dedicated to producing products that are all natural, researched and highly effective. Through the WarriorRx product portfolio, Top Form Research works to inspire, educate and aid in healthy lives.
Contact: Tom Jankowski, Top Form Research COO; tomj@warriorrx.com