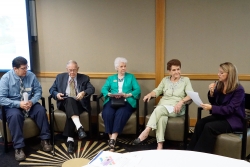 Grapevine, TX, October 15, 2015 --(
PR.com
)-- The National Association of REALTORS® reports that one in four home sellers (25%) is over age 65 and that this number is expected to increase as our aging demographic increases. While most may think this is primarily the baby boomer generation relocating to retirement destinations like Sun City or The Villages, what most do not realize is that many of these sales involve frail elders lacking both the emotional and physical support necessary to effectively move from their long-time residences into independent or assisted living communities. Absent the family support and needed resources or knowledge to make such moves, many frail elders have begun relying on their local real estate agent to assist them with the daunting task of sorting, organizing, planning, and executing late-life moves. The Seniors Real Estate Institute® (SREI®) has made it their mission to equip, empower, and educate real estate sales professionals to better navigate these unique and sometimes challenging issues related to late-life moves, especially when the client is a frail elder. In an effort toward fulfilling this ambitious goal, the Seniors Real Estate Institute recently held their First Annual Legacy Conference in Grapevine, Texas, on Oct. 7-8, 2015, representing the first-ever nationwide event of its kind designed to educate, equip, and inspire REALTORS® who serve senior adults affected by late-life relocations.
"With families scattered around the country and faced with the challenge of balancing helping mom and dad with a move, keeping their jobs, and raising their kids, frankly, Mom and Dad often become the lesser of many competing priorities," says Buckelew, co-founder and CEO of the Seniors Real Estate Institute. "As a result, the burden of such tasks necessary to move clients from long-time residences, often in their eight and ninth decades, ultimately falls upon the real estate agent who is called upon to sell the house. They don't teach these things in real estate school and despite reports from our National Association of REALTORS, there have not been any specific industry-related trainings designed to address this growing issue."
The 2015 Legacy Conference event culminated as a result of The Seniors Real Estate Institute's some 500-plus course graduates and
Certified Senior Housing Professional® (CSHP®)
members, and drew a diverse group of attendees consisting of real estate agents and senior living community representatives from eleven different states and 31 cities around the country. "A significant percentage of this year's attendees have already achieved the Certified Senior Housing Professional (CSHP) designation from The Seniors Real Estate Institute, and many are well-known within their local markets as the go-to expert on seniors housing," observed Nikki Buckelew, Founder and CEO of The Seniors Real Estate Institute. "Despite the amazing turnout for this conference, however, we still have a lot of work to do to insure that every senior in every city in North America has access to qualified and caring real estate agents in their local market." Buckelew added.
"The real estate agents who have sought out the advanced training through our organization are rare and exceptional people, as well as skilled professionals," Buckelew emphasized. "It didn't take long to realize after people began to arrive at the registration table that we were going to experience something unique and special in our industry – a venue whereby people would share both their passion for serving others and their desire to combine it with creating business development opportunities. In the real estate industry, trainings always seems to be focused on making money and rarely is the customer the focal point. At the Legacy Conference and SREI, we are all about how to best serve the senior client first, while knowing that with exceptional and consistent service and leadership, the income opportunities show up."
Buckelew was quick to cite that in addition to her efforts and those of her husband, Chris Buckelew, SREI co-founder and COO, the conference would not have been possible without the support of key individuals. The 2015 Legacy Conference advisory team, conference ambassadors, and guest speakers and panelists included a wide array of experience, perspectives, and occupations within the real estate and senior living industries:
· Cyndi Cummings, Keller Williams Realty, Lakeway, Texas
· Michelle Moon, Keller Williams Realty and Victory Life Coach, Orlando, Fla.
· Ingrid Sullivan, Keller Williams Realty, Arlington, Texas
· Lisa Parrett Treadwell, Keller Williams Realty, Indianapolis, Ind.
· Mark Wilkinson, Coach and Team Leader, Keller Williams Platinum, Oklahoma City, Okla.
· Ryan Cook, First Class Realty Group, Easton, Mass.
· Elaine Scheelk, Reece Nichols Real Estate and Director of Marketing for Lifespace Communities, Kansas City, Kans
· Mike Hirrlinger, C21 Mike Bowman Real Estate, Grapevine, Texas
· Angela McCants, Dave Perry-Miller Real Estate, Dallas, Texas
· David Cook, Georgetown Mortgage, Georgetown, Texas
· Anita Kelley, The Veraden, Oklahoma City, Okla.
· Julie Davis, Concordia Senior Living Community, Oklahoma City, Okla.
· Kathleen Storey, HarborChase of Plano, Plano, Texas
· Gail Peacock, Avenida Partners, Dallas, Texas
· Paul, Mary Ann, and Norma, residents of Parkwood Retirement Community
· Mark Gustafson, Executive Director, Parkwood Retirement Community
Attendees concluded that expert panels featured throughout the two days were of the highlights of the conference. "Hearing from the three senior living community residents who had already made the move was invaluable. I now understand their personal perspectives so much better and will carry that with me as I work with future clients," said Freda Hamlett (Cary, North Carolina). In reference to the panel comprised of senior living community representatives, Susanne McInerney (Waltham, Mass) remarked, "After hearing the panelists discuss their roles and the challenges they face, I realize just how critical it is that we partner better with them to help make the move easier on the senior and their family."
Over half of the attendees have already pre-registered for the 2016 Legacy Conference to be held in the same location on Oct. 19-20, 2016. "Due to limited space and the overwhelming feedback received so far, we anticipate the 2016 event to fill up quickly. Real estate agents who are relationship-based and not money motivated are hungry for a way to combine making a nice living with making a positive difference in their communities," comments Buckelew. The Seniors Real Estate Institute, independent of any brokerage or the National Association of REALTORS, has made it their mission to deliver meaningful trainings and events, as well as provide the needed tools, education, and support to real estate and senior living professionals so they can do exactly that.
For more information or to register for SREI's Annual Legacy Conference 2016, go to http://www.sreilegacyconference
Founded by Nikki and Chris Buckelew,
The Seniors Real Estate Institute
is a privately owned training, coaching, and consulting organization headquartered in Oklahoma City, Oklahoma, dedicated to equipping, educating, and empowering real estate and senior housing professionals to serve the needs of older adult homeowners and caregivers. Uniquely positioned to spearhead real estate coaching and training programs focused on equipping real estate professionals with the expertise and commitment to build thriving businesses based on compassionate and skillful service to seniors in transition, the Buckelews are 20-plus-year veterans in the real estate industry and hold combined degrees and certificates in the areas of Gerontology, Counseling Psychology, Neurolinguistic Programming (NLP), and Leadership Coaching. Nikki and Chris have held a number of corporate positions such as real estate brokers, leadership coaches, sales trainers, case managers, and managers of operations, but are most known for their real estate sales success as former mega-agent team owners, selling more than 100 properties annually for both seniors and non-senior clients, as well as having recently founded OKC Mature Moves, a full-service real estate sales firm exclusively dedicated to serving the needs of Oklahoma's downsizing seniors.