Go Grow LED Helping Businesses Secure $50M in Government Grants for Lighting Upgrades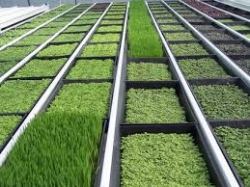 Las Vegas, NV, October 17, 2015 --(
PR.com
)-- Go Grow LED, LLC, manufacturer of innovative and technologically advanced LED grow lights, announced today their commitment and support to help businesses obtain a government grant that will provide agricultural producers with $50M in funds available from the U.S. Department of Agriculture.
The Rural Energy for America Program (REAP) Provides guaranteed loan financing and grant funding to agricultural producers and rural small businesses to purchase or install energy efficiency improvements. Seeing an opportunity to assist agriculture customers recoup up to 25% of the cost of energy-efficient lighting upgrades through the grant program, and a savings of up to 75% when utilizing a grant/loan combination, Go Grow LED has already ensured the company's grow lights qualify for program.
"The initial investment in LED lighting is often times cost prohibitive, despite the future savings," says Go Grow LED Managing Member Scott McCormick. "When you can offset a portion of these costs through a grant or loan, it makes the upgrade to LED more realistic."
Go Grow LED can assist in identifying eligible agriculture operations and provide support with the application to ensure grants are approved. Businesses must be in an area other than a city or town with a population of greater than 50,000 inhabitants and the urbanized area of that city or town. "We encourage all existing and potential Go Grow LED customers to contact us immediately for assistance if they are interested in the grant program with the USDA," says Scott McCormick.
The Rural Energy for America Program encourages urban farmers to take advantage of the grants and loans for energy-efficient LED lighting. This program helps increase American energy independence by increasing the private sector supply of renewable energy and decreasing the demand for energy through energy efficiency improvements. Over time, these investments can also help lower the cost of energy costs for small businesses and agricultural producers.
For more information, please contact Go Grow LED at
sales@gogrowled.com
or visit their website
www.gogrowled.com
.
Media Contact: Scott McCormick, smccormick@gogrowled.com
Contact
Go Grow LED
Scott McCormick
702-558-0533
www.gogrowled.com

Contact