Through DirectBuy, Ottawa Couple Builds Three Houses
Ottawa Couple builds three new houses with nearly everything purchased through Direct Buy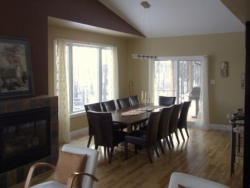 Ottawa, Canada, December 13, 2007 --(
PR.com
)-- DirectBuy has earned a reputation as the one-stop source for virtually everything consumers need to remodel or refurnish their homes. But what many people don't know is that Direct Buy showrooms also offer nearly everything they need to build their dream homes from scratch.
Adrian and Raffaela Nemerosky were among those who didn't realize just how helpful the savings, selection and service of a Direct Buy membership would be for constructing a new home. Now, after building three new houses with nearly everything purchased through Direct Buy of Ottawa, the couple can't imagine buying the necessities for their dream home anywhere else.
"The Ottawa showroom has been very helpful," says Adrian. "They've enabled us to explore all the possibilities."
The Nemeroskys became members about five years ago, after hearing about Direct Buy from a friend who worked with the company as part of its network of local suppliers, contractors and installers. The couple had renovated homes in the past, but had decided they could get the most out of the local market by building their next home themselves, with Adrian constructing and Raffaela decorating.
The Nemeroskys bought all the home improvement items they could at Direct Buy of Ottawa, with guidance from Center Owners Frank Andrée, Chantal Lapalme and France Lapalme and the showroom staff. In another year and a half, when the couple decided to move on to another home, they turned to DirectBuy again.
And today, Adrian and Raffaela are putting the finishing touches on the third home they built themselves. The styles of the homes have varied, from Colonial to contemporary, to their newest, a Frank Lloyd Wright-inspired creation. But the savings they've experienced through their Direct Buy membership have remained the same as they've purchased essentials like windows, siding, tiles, countertops and more – everything but insulation and roof shingles, according to Adrian.
"The selection of high-end products and the value is amazing," he says. "This house is the closest we've come so far to being nearly 100% built by DirectBuy."
Overall, the Nemeroskys estimate that their membership has helped them save about $60,000 for each of their three homes. Now, as they anticipate the arrival of their first child this summer, they plan to continue making the most of their DirectBuy membership the next time they build a new home, this time to make room for their growing family.
About DirectBuy
For more than 35 years, DirectBuy has been showing thousands of consumers unparalleled ways to save as they shop for virtually everything they need for in and around their homes - from furniture, carpet and
flooring
, to
kitchen and bath cabinets
, appliances and much, much more.
DirectBuy enables members to purchase most every product offering from several hundred manufacturers at over 140 showrooms across North America. To request a "Free Insider's Guide to Buying Direct" and a Visitor's Pass to learn more about the superior value and benefits of a DirectBuy membership, visit
www.directbuy.com
or
www.directbuycares.com
###
Contact
DirectBuy
Sara Shragal
219-736-1100
http://www.directbuy.com/

Contact