Technology Simplifies Shipping Holiday Gifts
ShipGooder.com quickly searches FedEx, UPS, DHL and the U.S. Postal Service for the best shipping rates, as well as rates from local and regional couriers.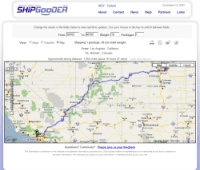 Toronto, Canada, December 13, 2007 --(
PR.com
)-- Enter two zip codes, "from" and "to". Enter the weight of your package, and instantly you see shipping rates from all the major couriers. Sounds simple, because it is simple. ShipGooder.com is a revolutionary new website that is winning high praise from visitors and website reviewers alike.
ShipGooder.com describes itself as a search engine for shipping rates. However, it is much more than that. The speed and simplicity of ShipGooder allows visitors not only to view rates and shipping times of each courier, but also to sort the rates by courier and even view the actual transportation route with an integrated Google Map – all within mere seconds.
The surge in online spending this season has holiday shoppers flocking to ShipGooder.com to save money on shipping rates. The accolades are arriving on a daily basis. A sample message of elation from one visitor: "Just what I've been looking for! What a time saver! I'll tell everyone." Reviewers are equally impressed. Noted writer and reviewer Bill Hartzer remarked, "They provide search results in as little as 15 milliseconds. You can compare this with most other shipping rate sites that take up to a minute or more to respond with a shipping rate."
ShipGooder's service is provided free of charge, and does not require visitors to create an account or register any personal information. ShipGooder also does not clutter its pages with annoying ads. The company's success has also been a driving force in attracting the attention of local and regional couriers who are moving quickly to have their rates displayed on ShipGooder.com.
The company recently launched a new toolbar utility that allows visitors to keep a small window open on their desktop for performing frequent shipping rate searches. "Whether you're shipping a gift from home, packages for business, or shipping a parcel for eBay, you'll save time and money by using ShipGooder.com," commented Franc Vodopivec, President of ShipGooder. "There is simply no other website out there that is close to the speed and simplicity of ShipGooder.com."
Thousands of delighted visitors seem to agree – let the shipping revolution begin.
###
About ShipGooder, Inc.
Toronto-based ShipGooder, Inc. was founded in October 2006 after many years of preparation and planning to develop a multi-carrier rate engine that allows users to quickly compare services from national, regional and local couriers in the U.S. and Canada. ShipGooder.com provides an easy, fast rate engine to obtain the best shipping rates.
For more information and additional media resources, please contact:
Nancy Chafee, V.P. Sales and Marketing
nancyc@shipgooder.com
(416) 930-3043
www.shipgooder.com
Contact
ShipGooder, Inc.
Nancy Chafee
(416) 930-3043
shipgooder.com

Contact
Multimedia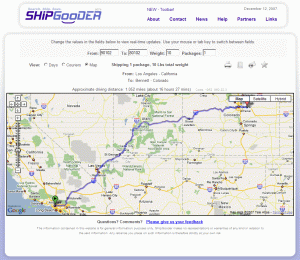 ShipGooder now uses Google Maps to display the actual transportation route of your packages.