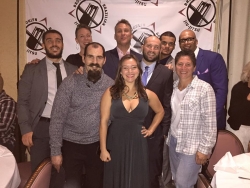 Brooklyn, NY, October 28, 2015 --(
PR.com
)-- Staging its most ambitious charity endeavor yet, the Brooklyn Brazilian Jiu-Jitsu organization held a sold-out dinner to benefit the Global Alliance for Improved Nutrition in Cobble Hill, Brooklyn last Saturday night.
The event - "Dine for a Cause" - brought together over 120 martial artists from all over the borough for an evening of food, music and a celebration of a decade of charitable giving by the martial arts network.
GAIN, an international organization launched at the UN in 2002, focuses on ending malnutrition and hunger, with a goal to reach a billion people by the end of the year. By building connections between governments and businesses worldwide, they help faciliate solutions to the challenge of food insecurity faced by poor people.
"Dine for a Cause" came out of the desire and effort to help support this mission in a way which would also bring the members of the Brooklyn Brazilian Jiu-Jitsu community together.
"We decided on the dinner format because it connects people very immediately to the idea that we usually think of food as plentiful," says instructor Jason Lynch. "So it's a good starting point to remind everyone that hunger, global and local, can easily be an invisible problem."
Since its founding, Brooklyn Brazilian Jiu-Jitsu has made charitable donations a part of the martial arts experience. A portion of their profits each month are donated to a different charitable organization, researched and reviewed by all the Professors and instructors. GAIN was the focus for September and October.
"This is the first large-scale event we've held, and there was an amazing response from the BBJJ community," says instructor Manny Mendonis.
Brooklyn Brazilian Jiu-Jitsu founder Gene Dunn adds, "This is something that separates us from most other martial arts schools. We are very conscious about turning our attention outwards, to see how we can help others. The world doesn't need more tournament champions - it needs more generous giving."