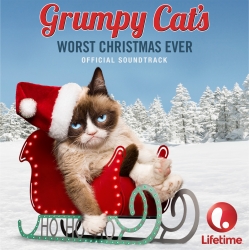 Los Angeles, CA, November 03, 2015 --(
PR.com
)-- "I had a Picture-Vinyl record once. It was awful." – Grumpy Cat
Get ready for a very Grumpy Vinyl Christmas! Palm Oaks Entertainment is excited to announce the special vinyl edition of the soundtrack to Grumpy Cat's Worst Christmas Ever and a pre-order available on PledgeMusic.com
Grumpy is also offering a selection of unique, limited-edition Christmas presents including a an oil painting of Grumpy with your pet, a selection of limited edition Picture disc vinyl, cassettes and Grumpy Cat Christmas hats. Each purchase comes with a download of the entire digital soundtrack.
Grumpy Cat's Worst Christmas Ever is a live-action movie that follows the infamous Grumpy Cat and her sour outlook on the holidays. The film, featuring the famously frowny feline (voiced by Aubrey Plaza) is already a Christmas tradition after debuting last year.
"This is a fresh new collection of fun holiday songs that the whole family can sing along to!" says Grumpy Cat Manager Ben Lashes.
"I'm thrilled to be part of Grumpy Cat's first Vinyl record," says Palm Oaks Entertainment Co-Founder Jonathan Miller, "and what is certainly the biggest cat movie ever made."
Complete Grumpy Cat's Worst Christmas Ever Vinyl track listing:
Side One
1. "It's Hard to Be a Cat at Christmas" Cats Across America
2. "Sleigh Ride" KT Tunstall
3. "Jingle Bells" The Brian Setzer Orchestra
4. "Up On The Housetop" Pomplamoose
5. "Deck The Halls" Chris Mann
6. "Worst Time Of Year" Shaprece & House Of Breaking Glass
7. "Christmastime Again" Jason Holstrom
8. "Carol Of The Bells" The Bird and The Bee
Side Two
9. "Holiday Bells" Natalie Taylor
10. "Christmas Honey" Joy Follows
11. "All I Want For Christmas" (Is My Two Front Teeth) Big Bad Voodoo Daddy
12. "White Christmas" Johnny Reid
13. "Grumpcracker Medley" House Of Breaking Glass
14. "A Very Grumpy Christmas" House Of Breaking Glass
Bonus Tracks
1. "Play Him Off, Keyboard Cat" Keyboard Cat
2. "Nyan Cat Theme" Nyan Cat
3. "Ain't No Sonnet" Dragon Tail
About Grumpy Cat
Grumpy Cat is one of the most famous cats of all time. The adorable feline celebrity was named the most influential cat by MSNBC, most important cat by Mashable and Buzzfeed, and has appeared in news and television shows around the world. She is the author of two New York Times Best Selling books currently in print in 14 languages. Grumpy Cat has nearly 7 Million fans on Facebook, and her YouTube videos have been viewed over 40 Million times. www.grumpycats.com
About Palm Oaks Entertainment
Palm Oaks partners John Babbitt and Jonathan Scott Miller produce and market soundtracks and other entertainment and celebrity-related products. Other Palm Oaks clients and projects include Ford, CBS Television and QVC. palmoaksent.com
About PledgeMusic
PledgeMusic is the number one community of artists and fans that believe in a better way to make, enjoy and buy music. www.pledgemusic.com
Fast Company name PledgeMusic one of The Worlds Top 10 Most Innovative Companies of 2015 in Music for "Helping artists and fans get what they want"
For More Information Contact:
John Babbitt
jbabbitt@palmoaksent.com