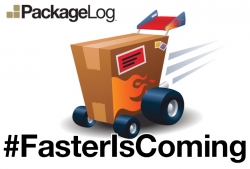 Orlando, FL, November 04, 2015 --(
PR.com
)--
PackageLog
™, has long been the industry leader in reducing the amount of time apartment industry leasing-office teams spend accepting, delivering and managing inbound packages for residents. Clients of PackageLog™ have
been vocal
about the time they save each day by using the fully-integrated, web-based solution. "Managing packages for residents is an important amenity for residents," says Craig Meddin, CEO Logware®. "We know that accepting and delivering residents' packages is not our clients' core business, its leasing apartments. Our development team is always looking for new ways to reduce the time it takes to log and deliver a package."
Over the past few weeks, package management has gained
national attention
after a large apartment property management company announced that they would no longer be accepting packages at their leasing offices, citing an average of 10 minutes (of staff resources) for each package received. "With our current PackageLog process, we can easily cut that time in half - or more. However, we're not resting on our laurels. We know we can make the process even faster," says Chelsea Burnett, Director of Client Services at Logware®.
In the coming weeks PackageLog™ will announce a new tool that will reduce the time it takes to accept and electronically log an inbound parcel. The new tool reduces the already fast PackageLog™ process, to just a few seconds. This improvement will provide a significant reduction in the overall package management process. Logware® Director of Software Operations, Gustavo Ortiz said, "We're at the finish line of a two-year long development initiative that we believe will bring real value to our clients' day-to-day work life." In fact, the PackageLog™ team believes their forthcoming tool will become the defacto standard for those who accept and deliver packages for others (across most industries). "This will change everything. We can hardly wait to announce it," said Ortiz.
Details on PackageLog™'s new package-logging tool will officially be announced in mid-November. Information on when and where the announcement will take place can be found by following the hashtag #FasterIsComing on Twitter and Facebook, in addition to upcoming announcements on PackageLog.com.
About Logware®:
Logware®, a Postal Solutions company, develops efficiency Software-as-a Service (SaaS) products to make life easy for its users. Logware® products all integrate with several property management software systems in the U.S. and abroad. PackageLog™, its flagship application, is a package management tool that leverages package notifications for customer engagement. It's everything about packages… Just 90% faster.