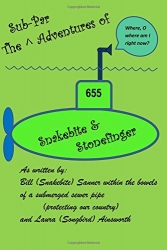 Dallas, TX, November 09, 2015 --(
PR.com
)-- A survey by Blue Star Families found that 90 percent of military members believe the general public doesn't understand the sacrifices made by service members and their families. But one US Navy veteran is determined to change that.
These days, Bill Sanner is a Dallas-based computer tech business owner and prolific singer/songwriter, but he's making waves with a new memoir of his years aboard a Navy submarine, the USS H.L. Stimson, during the 1970s.
Sanner says, "Submariners make this place a safer world, but their own world is mysterious, intriguing and interesting, too. While full of fun and lighthearted pleasure, dealing with the angst of leaving loved ones for long periods of time without any communication whatsoever makes for an amazing life."
It's obvious from the title that
The Sub-Par Adventures of Snakebite & Stonefinger
(the Navy nicknames of Sanner and his best service buddy, Smitty), now available at Amazon.com, is not your standard military bio, filled with epic battles and high-level war strategy. Yet a reviewer for the Stimson Draft submariners' newsletter raved that he "could not put it down" and declared it a "must-have."
That's because this moving and hilarious memoir (co-written with Sanner's friend, writer and Eclectus Records recording artist Laura Ainsworth) captures day-to-day military life as experienced by countless young enlistees and their families. The lifelong friendships formed in minutes at boot camp; the pranks ("rig jobs") that make regimented military life bearable; the everyday frustrations with what Sanner calls "Navy nincompoopery," and the struggles shared by young sailors and their families, as they cope with separation, loneliness, low pay, even pregnancy and childbirth, while separated by half a planet and the depths of the ocean.
Filled with dozens of never-before-published submarine photos and drawings from the 1970s, the book gives the reader a rare behind-the-scenes look at how submarines actually work (did you know they can make their own air?) and how the crews manage to work in cramped quarters and outer space-like isolation for months on end without going crazy "while serving America in a submerged sewer pipe." Sanner believes the key is to maintain a sense of humor. Along with family dramas and fascinating tech details, the book offers many laugh-out-loud stories, ranging from "surfing seagulls" to the night Sanner inadvertently shattered every glass in his barracks with his stereo. But he and his comrades were Christian family men, so Sanner says that unlike Hollywood depictions of military life, "Our hijinks were good, clean fun. You can safely let your kids read this."
The book has been cheered by the submarine community (Sanner and Ainsworth are already booked for next year's Stimson Reunion in Charleston, South Carolina), but it is also an entertaining and engrossing read for all veterans and military families, as well as those curious about the true-life stories of the extraordinary men and women who protect America and the sacrifices made by those who love them.