Teensy Studios Releases Tiny Table Tennis for Apple Watch
Teensy Studios has released their first game for the Apple watch platform. The studio has been focusing on Android Wear since its launch and released over 30 games on the platform, making it one of the most prolific producers of games for Google smart watches. After spending a long time on R&D they are bringing out a series of new gameplay experiences for the Apple Watch.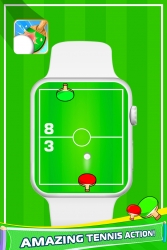 New York, NY, November 12, 2015 --(
PR.com
)-- Teensy Studios, a leading developer of wearable games, is proud to announce the release of their first Apple Watch game "Tiny Table Tennis" available worldwide on the Apple Store.
Tiny Table Tennis is a fast paced table tennis action game. It's a fun mini game which provides a real animated and interactive gameplay experience on the Apple Watch. "We have worked very hard to make a unique, fun, interactive and playable experience on Apple Watch," says Sarah Zohar, Marketing Manager at Teensy. "The Apple Watched challenged us to to create something dynamic and fun within its form factor and we think we have cracked it! We are trying for dynamism, as opposed the tile and static games out there at the moment. Watch this space - we have some more amazing little games coming out soon. This is just the first of many."
Supporting Devices:
Apple Watch and all Android Watches
Download links:
App Store Link: http: http://apple.co/1ilJoQ2
Google Play Store Link: http://bit.ly/1PSy4JM
For more information, visit www.teensystudios.com, press assets are available at www.teensystudios.com/press-kit. To join the conversation, like the games on Facebook and follow Teensy Studios on Twitter.
About Teensy Studios
Teensy Studios is an indie game studio, with an innovative and creative team of developers and designers. They are here to make mini games that everyone can play, in bite size chunks of fun.
Teensy Studios is committed to develop unique games that stand out for their originality and quality. They are keen to develop best cross platform experience and share the fun no matter what device you have.
Contact
Teensy Studios
Email: feedback@teensystudios.com
Website URL: http://teensystudios.com/
Contact Person
Sarah Zohar
Marketing Manager
Email: sarah@teensystudios.com
Contact
Teensy Studios
Sarah Zohar
+971526186161
http://teensystudios.com/

Contact