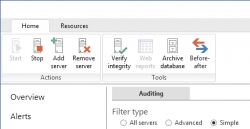 Raleigh, NC, March 22, 2016 --(
PR.com
)-- ApexSQL, a Microsoft Gold Certified Partner and major provider of Microsoft SQL Server solutions, announced the release of ApexSQL Audit 2016.
About ApexSQL Audit: ApexSQL Audit is a SQL Server auditing tool with a wide range of possibilities for auditing access, changes, and security on SQL Server instances, databases, and objects. It audits queries, DDL and DML operations, security events (authentication changes, permissions changes, and attempted logins), events on stored procedures and functions. ApexSQL Audit saves captured information in a centralized auditing repository and provides comprehensive reports.
For more information, visit the ApexSQL Audit
product page
.
ApexSQL Audit 2016 includes the following new features and improvements:
· Application now supports alerts logging into Windows Event Log
· Reports can now use multiple data sources simultaneously
· Advanced application status with detail info about central and auditing instances
· CLI for exporting reports to any of supported file format
· Improved alerts editor with variables highlighting and result preview
· SQL Server 2016 CTP3 support for before-after auditing is added
"A word of congratulations. I think that your suite is some of the best stuff I have ever used. I had to add auditing to an existing SQL Server and your ApexSQL Audit product did that effortlessly and flawlessly. The client loves the solution I am also impressed by your rapid response to issues and feedback. Keep up the good work."
-Cameron Townshend
Executive Consultant
ISG Technology
See also:
ApexSQL Audit 2016 release notes