ApexSQL Diff 2016 Released
ApexSQL Diff 2016, a SQL Server database schema and data comparison tool, has been released.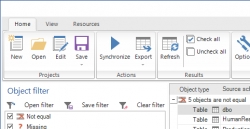 Raleigh, NC, March 24, 2016 --(
PR.com
)-- ApexSQL, a Microsoft Gold Certified Partner and major provider of Microsoft SQL Server solutions, announced the release of ApexSQL Diff 2016.
About ApexSQL Diff: ApexSQL Diff is a SQL Server and Azure SQL Database comparison and synchronization tool, which detects differences between database objects and resolves them without errors. It compares and synchronizes live databases, native or natively compressed database backups, database snapshots, scripts in source control and script folders, and generates comprehensive reports on the detected differences.
For more information, visit the ApexSQL Diff
product page
.
ApexSQL Diff 2016 includes the following new features and improvements:
SQL Server 2016 RC1 support
SQL Server Management Studio 2016 RC1 integration
New output types:
C# solution
Executable installer
Azure SQL Database V12 full support
New export: Excel
New export: HTML structure for source and destination data sources
"Thank you for all the help! After working with ApexSQL Diff for so many years it is extremely encouraging to see your involvement in the direction of the products! With each release you have made my life easier :)"
-Tom Bruinsma
Vice President - Integration Services
MicroLogix Information Systems, Inc.
See also:
ApexSQL Diff 2016 release notes
Contact
ApexSQL Software
Milos Kostadinovic
+1 (866) 665-5500
www.apexsql.com

Contact