ApexSQL Data Diff 2016 R2 Released
ApexSQL, a Microsoft Gold Certified Partner and a major provider of Microsoft SQL Server solutions, announced the release of ApexSQL Data Diff 2016 R2.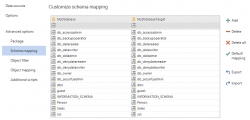 Raleigh, NC, May 26, 2016 --(
PR.com
)-- About ApexSQL Data Diff: ApexSQL Data Diff is a SQL Server data comparison and synchronization tool that detects data differences and resolves them without errors. It compares and synchronizes live databases and native or natively compressed backups and generates comprehensive reports on the detected differences.
For more information, visit the ApexSQL Data Diff
product page
.
ApexSQL Data Diff 2016 R2 includes the following new features and improvements:
- SQL Server 2016 support
- Improved HTML reports
- Improved CLI output messages
- New features:
o Schema mapping
o Save project as batch file
- New switches:
o Help to HTML switch
o Return error codes switch
o Silent switch
o Ignore new objects switch
- 17 new CLI return error codes
"We have fully integrated ApexSQL Diff and ApexSQL Data Diff into our design, integration/ performance testing, and production release SDLC. The ApexSQL tools have tremendously increased our confidence level on the integration of these systems and the veracity of our product release cycles. ApexSQL Data Diff allowed us to proof test the automation of an ETL process against the long standing manual process that was in use in production, and when that system goes into full production, will save our company hundreds of thousands of dollars over the next few years, and millions in the years to come."
-William E. Saxon, Jr.
IT Consultant - Application Development
Nationwide Better Health
See also:
ApexSQL Data Diff 2016 R2 release notes
Contact
ApexSQL Software
Milos Kostadinovic
+1 (866) 665-5500
www.apexsql.com

Contact