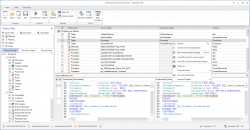 Chapel Hill, NC, February 23, 2017 --(
PR.com
)-- ApexSQL, a Microsoft Gold Certified Partner and a major provider of Microsoft SQL Server solutions, announced the new major release - ApexSQL Diff 2017.
About ApexSQL Diff: ApexSQL Diff is a SQL Server and Azure SQL database comparison and synchronization tool which detects differences between database objects and resolves them without errors. It compares and synchronizes live databases, native or natively compressed database backups, database snapshots, scripts in source control and script folders and generates comprehensive reports on the detected differences.
For more information, please visit the ApexSQL Diff
product page
.
ApexSQL Diff 2017 includes the following features:
· SQL Server Integration Services package comparison
· Ignore lock escalation property of tables option
· Create snapshot of destination database before synchronization
· Create rollback script for destination database before synchronization
· Create script folder backup for destination script folder or source control before synchronization
· XML export customization options
· Export schema comparison differences to SQL script and a database table
· Script difference panel options
"ApexSQL Diff paid for itself in the first hour of using it. I synced 12 different databases to a common rev and man am I happy."
- Casey Kirt
Bell Mortgage
Project Manager
See also:
ApexSQL Diff 2017 release notes