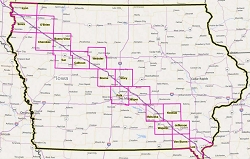 Marion, IA, November 12, 2015 --(
PR.com
)-- Don White, Vice President of the Iowa Renewable Energy Association (I-Renew) will deliver arguments against the proposed Dakota Access pipeline on November 12th during the Iowa Utilities Board's public hearing at the Boone County Fairgrounds in Boone, Iowa. The proposed pipeline, popularly known as the "Bakken Pipeline," will transport crude oil through Iowa's fertile countryside and into Patoka, Illinois.
White outlined the organization's planned talking points for the hearing as follows: "Fossil fuels add greenhouse gases into the atmosphere. This increases global warming and causes climate change that puts Iowa crops, property owners, and wildlife at risk. We should not invest in infrastructure that encourages the use of fossil fuels when there are viable clean energy alternatives already available. Clean energy will create jobs indefinitely, whereas fossil fuels are a finite resource that will soon be depleted. Iowa needs to invest in the future, not the past. Prolonging our dependence on fossil fuels hurts everyone except for those who own controlling shares in fossil fuels."
White encourages all concerned Iowans to attend the public hearing on November 12 at the Boone County Fairgrounds, 1601 Industrial Park Road, Boone, Iowa. According to the Iowa Utilities Board's public information sheet, anybody is free to come and go as they wish as long as they don't disrupt scheduled speakers. Live stream video of the hearing will also be available at
https://iub.iowa.gov/live-video-pipeline-hearing
.