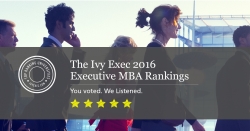 New York, NY, November 17, 2015 --(
PR.com
)-- Ivy Exec Inc. (www.ivyexec.com) has published their inaugural 2016 Top Executive MBA Program Rankings, ranking the
top 50 Executive MBA programs
offered by single institutions, and
the top 20 jointly offered EMBA programs
. The rankings are based on data from a comprehensive survey that compared EMBA programs across various factors, including reputation, career advancement, curriculum, globalness and life balance.
"We are thrilled to give our members and visitors the opportunity to see how the world's top Executive MBA Programs compare against these important factors, and to provide an in-depth view of each program," says Gayle Rigione, Director of Strategic Development at Ivy Exec. "The individual school pages provide valuable details on the ranked EMBA programs, including tuition, diversity, application deadlines and cohort composition."
"When thinking about pursuing an MBA program, candidates report talking to colleagues and friends, and reviewing data and rankings reports to get a sense of a school's reputation," explains Coni Zingarelli, Director of Recruitment and Admissions for UC Irvine's Executive MBA Programs. She adds, "These new rankings are valuable because Ivy Exec evaluated the top factors that are most important to its members when selecting a program, and then integrated its study results with school data to deliver a resource candidates can rely on when deciding on a program."
90% of Ivy Exec members value education as a way to advance their careers. Professor Farrokh Langdana (Finance/Economics), Director of Rutgers Executive MBA Program suggests, "With more and more executives 'wearing many hats' at work or making major career transitions, a really practical yet theoretically up-to-date EMBA program is a career necessity." From Langdana's vantage point, "Individual program websites do a great job with the academic details. But it is rankings such as these by Ivy Exec that provide EMBA applicants with real, unbiased testimonials regarding the 'true market worth' of individual EMBA programs."
Ivy Exec is a membership-based, holistic professional development resource for executives, with over 600,000 members worldwide. For more information about the Ivy Exec EMBA ranking study, please contact Jennifer Bagby at jennifer@ivyexec.com.
Featured Executive MBA programs include:
London Business School Executive MBA
MIT Executive MBA Program
The Cornell Executive MBA
The IE Global Executive MBA
The ESADE Executive MBA
The Rutgers Executive MBA
IE-Brown Executive MBA
The Vanderbilt Executive MBA
Katz EMBA Worldwide Program
The Alberta Haskayne Executive MBA
The UC Irvine Executive MBA Program
The Global Executive MBA (GEMBA) from ESADE & Georgetown
The Executive MBA Americas (Cornell & Queen's University)
EMBA-Global Americas and Europe (London Business School & Columbia)
About Ivy Exec
Ivyexec.com is a membership community of 600,000 high caliber professionals seeking long-term career advancement. Our members possess power, influence, and potential. Through partnerships with top universities globally we provide avenues for select MBA, eMBA and Executive Education programs to market their offerings to our community.