New on Amazon.com - Ground Breaking Book: "Flower Power - Redefining the Paradigm of Patient Care," Author, Susan C. Dewey RRT
Health Care systems and facilities are failing across the nation. Their leadership are disconnected from the reality that patient care comes first and patient satisfaction is a byproduct of doing it right. Today is the day our leaders in health care need to listen and understand the key to finding success, or they will continue to fail.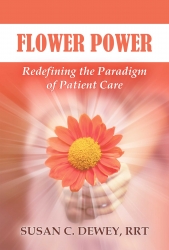 Tampa, FL, November 17, 2015 --(
PR.com
)-- The leaders of our health care systems have become disconnected from the clinical, frontline staff delivering medical care. As a result our health care systems are failing in the area of patient care and as a result patient satisfaction. This book sheds light on the most basic issues and solutions that continue to be overlooked be hospital and facility leadership. It is vital that we reintroduce care into health care if our healthcare facilities expect to survive and thrive. The time is now to use new innovative ideas, and approaches to solve our health care disaster. Discover how simple fixes make a big difference, and who holds the key to your facilities successes and failures.
The author's stories of genuine compassionate care, patient neglect and caregiver indifference are moving. This book gives a behind the scenes look at why our health care systems seem so cold and indifferent. Then, provides a few simple examples of issues that could be improved, and how these changes are a win for everyone involved. By rethinking the way we deliver patient care we improve patient outcomes and by default patient satisfaction.
http://www.amazon.com/dp/1519204655/ref=cm_sw_r_fa_dp_p18rwb0TF1VA9
Contact
Discover Your Flower Power
Susan C. Dewey
574-386-9112
www.discoveryourflowerpower.com
www.susancdewey.com
Fax:813-252-8535

Contact