Cosmetic Dentistry Made Easier: Dental Makeover Portal 1stCosmeticDentist.com Launches
Consumer information site 1stCosmeticDentist.com provides local listings of dentists who offer cosmetic dentistry, as well as a variety of cosmetic dental educational resources.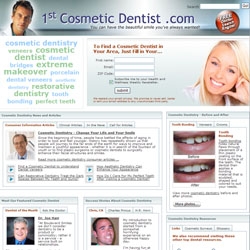 San Francisco, CA, December 17, 2007 --(
PR.com
)-- The Internet Dental Alliance announces the re-launch of its consumer information website 1stCosmeticDentist.com. The website offers patients a variety of cosmetic dentistry resources. Patients can find a properly trained dentist, learn more about
cosmetic dentistry
, ask questions of an expert dentist, and more.
Users can quickly and easily find cosmetic dentists in their area by entering their zip code. Whether they're general dentists or prosthodontists, the doctors featured are all trained in smile makeover techniques.
Every month the site features one cosmetic dentist with remarkable expertise in the area of cosmetic dentistry. Visitors to the site can email their questions directly to the featured dentist, who will post answers to selected questions. In addition, the archived posts of past expert dentists provide a valuable information resource for consumers who want to learn more about cosmetic dental procedures.
Featured on 1stCosmeticDentist.com are consumer information articles such as "Restorative Dentistry and the Dental Crown" and "Find a Cosmetic Dentist to Understand
Porcelain Dental Veneers
" In addition, the site offers clinical articles such as "Teeth Bleaching Before Dental Crowns Are Placed" or "Restorative Dentistry Treatments: Inlays And Onlays." Consumers will also find summaries of recent news stories.
One of the highlights of the site is the success story section where other cosmetic dental patients share their positive experiences. Users are invited to submit their own stories. "A few years ago at my best friend's wedding, I was constantly told that I had something in my teeth. When I saw the pictures, it hit me: my teeth looked disgusting," wrote one patient. "I was on the computer before I even finished looking at the pictures, checking local dental practices out, researching some common cosmetic dentistry procedures. A few weeks later I was in possession of a shiny, new, anchor person type smile. I am so much more aware of my teeth now; I smile and laugh a lot so it's great to not have to worry about trying to hide something. Thank goodness I took care of my teeth, and went full tilt on the cosmetic dentistry - I don't regret it one bit, and I think it was the best money I ever spent."
This dental web site offers some insight into dentists' thoughts on aesthetic dentistry in its survey section, where visitors learn that two out of three dentists think that celebrity cosmetic dentists and the extreme makeover services they offer are good for the profession. The dental website offers additional information on tooth whitening, porcelain veneers, dental bridges and crowns. There's also a glossary of common phrases, as well as links to special interest dental websites.
"We couldn't be more excited about launching this dental directory website!" exclaimed Jim Du Molin, owner of the Internet Dental Alliance. "We designed it to be straightforward and easy to use, giving you everything you need to know about cosmetic dentistry in one location, plus the ability to quickly find a qualified dentist near you. The internet gives dental patients more power than ever before!"
###
The cosmetic dentistry portal 1stCosmeticDentist.com is one of the Internet Dental Alliance's many consumer information websites, recently launched in an updated and more comprehensive format. Over the coming months, IDA will introduce improved consumer sites in areas such as sedation dentistry, orthodontics, and dental implants. All make patients' lives easier by offering zip code searches for specialized dental practitioners.
The 1stCosmeticDentist.com website is one of the many portal sites in the 1stDDS.com family. It is owned and maintained by the Internet Dental Alliance, Inc. (www.internetdentalalliance.com). IDA is the largest provider of websites for dentists, email patient newsletters and dental directories in North America.
Contact:
Jim Du Molin
http://www.thewealthydentist.com/contactinfo.htm
415-435-2818
Contact
The Wealthy Dentist
Jim Du Molin
415-435-2818
www.thewealthydentist.com/surveys.htm

Contact