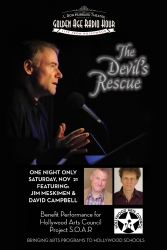 Hollywood, CA, November 19, 2015 --(
PR.com
)-- The spectrally chilling fantasy, "The Devil's Rescue," will be performed this coming Saturday, November 21, at the L. Ron Hubbard Theatre, located on Hollywood Boulevard, one block west of the Chinese Theatre.
Jim Meskimen, the man with a thousand voices, delivers a hauntingly brilliant performance as David Campbell, arranger, composer and conductor, maintains the eerie mood throughout the presentation on his Stradivarius violin.
"The Devil's Rescue" is the story about Edward Larson, who after twenty-two days drifting at sea in his lifeboat, is rescued by the crew of a spectral clipper ship. He is invited to dine with the captain and witness and play in a seven-yearly ritual where the captain plays dice with a Dark visitor to find out if he will reach safe harbor or be doomed to sail the seas with his faceless crew for yet another seven years.
Heralded by many theater goers as the friendliest theatre in Hollywood, you will be made to feel totally welcome in this intimate, family-friendly, cabaret-style environment by the theatre staff and will enjoy complimentary refreshments as part of the experience.
Enjoy a great show, a night of live Hollywood intimate radio theater and cabaret-style comfortable seating (where every seat in the house is a good seat). The best way to spend Saturday night in Hollywood. Doors open at 7 pm, show begins at 7:30 pm. Tickets are $15 per person.
http://www.galaxypress.com/theatre-los-angeles/theatre-schedule/
The performance cast:
Narrator – Jim Meskimen
Violin – David Campbell
Musical preshow – "Rome Will Burn" featuring Alyssa Suede, singer-songwriter and Carlton Moody (aka Manifesto), violin virtuoso.
"The Devil's Rescue" by L. Ron Hubbard
One night only, Saturday, November 21
Doors open at 7:00 PM and show starts at 7:30 PM
Tickets: $15.00 adults, children under 8 free. Can be purchased at the door or online at www.GalaxyPress.com or www.eventbrite.com.
Parking: Free
Address: 7051 Hollywood Blvd, on Hollywood Blvd, cross-street Sycamore, between Highland and LaBrea.
Note: For the best seats, it is recommended to purchase tickets in advance.
The L. Ron Hubbard Theatre has been open since 2008 and showcases the fiction works of L. Ron Hubbard in a modern-day environment with Hollywood actors where the entire family can experience a live show radio-theatre style and mingle with the actors afterwards.
Performances range from adventure, science fiction and fantasy, to mystery and western and begin with a 30 minute live musical pre-show. All shows are appropriate for all ages.
For more information go to www.GalaxyPress.com.