"A Bright Tomorrow": A Song of Goodness Coming During Turbulent Times, Out to Global Audience in 120 Countries
Sometimes it's best to look calmly inward during troubled times to draw on faith, and find reasons to hope. "A Bright Tomorrow" from The C.R. Ecker Band is all about extending goodness to those in need and believing that you can help to make a better world. Charles Ecker first composed this song in the late 1980s, but no publisher was interested because he wanted to give it to the world.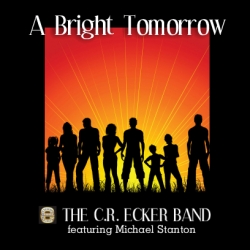 Playa del Rey, CA, November 23, 2015 --(
PR.com
)-- "A Bright Tomorrow" might seem to some to be a reaction to current world events, but this Country/Americana song by The C.R. Ecker Band was originally written and copyrighted in 1988 during troubled times then.
It begins: "If I had one wish, granted in my lifetime, it would be to speak to everyone upon the earth, I'd stand up before all my brothers and my sisters. I'd suggest these simple things to help us make a better world."
From there, singer Michael Stanton takes the listener though the peace and goodness expressed within. But, notes composer Charles Ecker, "We all know outside the framework of this song, that there are immense challenges facing us in the Battle between Good and Evil. This song is not about that!"
And so, despite rejections from publishers in the late 1980s because Ecker wanted to give the song away, he has gotten his wish, at least in part. To start, he has signed an agreement with music distributor cdBaby to pass "A Bright Tomorrow" to its subsribers at no charge. Ecker will wave any payments through other distributors, such as iTunes and Amazonmp3. They, along with 24 others world-wide, will charge a modest distribution fee.
Ecker, who had considered Public Domain but rejected that because of complete loss of control, said: "The song will be registered with BMI and any radio stations will pay standard royalty rates. Publishing royalties will come from any artists choosing to perform the song. My income from those sources will go to the two charities my band has supported since Day One - Wounded Warrior Project and D.E.L.T.A. animal rescue."
The C.R. Ecker Band was formed in Los Angeles in 2011. Since then, it has earned top country honors at The Los Angeles Music Awards and Hollywood Music in Media Awards and entry into the Starliner's Europe Hall of Fame. It was named 2013 Independent Music Network Country Band of the Year, nominated for a second time in 2015. From Nashville, members of The Independent Country Music voted it a Silver Star in the band competition in 2013.
Even before its wide release to over 1,000 radio stations in 120 countries, Ecker was quoted as saying that "A Bright Tomorrow" is "as close as I will ever come to conveying the spirit of John Lennon's 'Imagine.' And to already hear some comparisions made by radio programmers and on Social Media, I am very humbled."
Contact
Charles R. Ecker Music Publishing
Charles Ecker
310-486-0749
www.thecreckerbandmusic.com

Contact